Image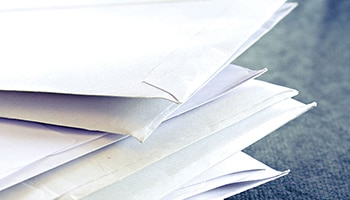 We provide a full suite of mail operations to our customers within the National Capital Region (NCR) with a comprehensive set of services that are tailored to meet our customers specific requirements.  Our team is committed to providing mailing solutions that surpass our customers' expectations while committed to providing excellence service.
PSC Mail Operations handles over three million pieces of mail annually. We provide two mailrooms within the NCR at the Parklawn (Rockville, MD) and Cohen (Washington, DC) facilities.
PSC provides courier services to over 40 mailstops in outlining facilities twice daily.  PSC prepares and dispatches outgoing mail utilizing our "Rate-Shop" system to compare real-time information from our carriers and identify the most cost-efficient vendor based on weight, destination, and time sensitivity of your delivery.
Services offered to all federal agencies in National Capital Region:
Courier Services
Automated inbound and outbound mail sorting and delivery
Daily pick-up and delivery of USPS, UPS and FedEx along with interoffice mail
Process outgoing USPS, UPS and FedEx mail
Assistance with the selection of the most cost-effective method of processing the various types of mail based upon desired delivery time using our rate shopping software
Daily mail collection and delivery for Parklawn tenants and Southwest complex tenants
Parklawn provides a clustered mail delivery service that provides mail delivery and collection from a cluster of mailboxes located within areas on each floor. 
How to Send Inter-Office Mail
Inter-Office mail should be placed in a Standard Form (SF) 65, Government Messenger Envelope (also referred to as a "holey Joe").  Please include the building's name and room numbers when writing the address on the inter-office envelopes. Names and routing information should be legibly printed on the line below the address.
Resources for Mailing and Tracking Packages
United States Postal Service:  Quick tools and information on services including Zip Code finder, tracking of an accountable package and information on International shipping.
UPS Packaging Advisor: The packaging advisor is an online tool that will assist with determining what you need for shipments sent via UPS.
FedEx: Tools and information for shipping and tracking packages sent via FedEx.
Contact Us
Learn about this service
Lisa Sneed
Lisa.Sneed2@psc.hhs.gov
(202) 868-9219

Bobbi Sue Cline
Bobbisue.Cline@psc.hhs.gov
(301) 443-5921
Existing Customer Inquiries