Image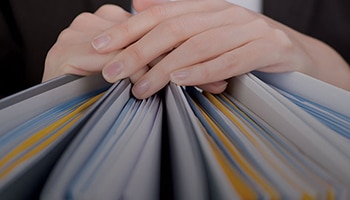 PSC's digital document conversion experts can assist federal agencies comply with the Presidential Directive on Managing Government Records, Freeze the Footprint Policy, and Data Center Consolidation Mandates. PSC will provide expert advice to federal agencies who are seeking ways to improve information asset management while decreasing their physical footprint. Federal agencies live in a world of information: printed files, paper documents, electronic forms, and emails, which contain records that must be actively accessed or preserved for future use. Our team can convert paper documents, bound books, photos, and microfilm accurately using state-of-the-art equipment.
We provide our customers with customized solutions and services that turn printed materials, microfilm/microfiche content and electronic information into valuable, organized data that can be output, ingested, and/or uploaded into any number of document and content management results designed to allow quick access and retrieval by authorized users.
Services offered to federal agencies include:
Paper documentation conversion (all size ranges)
Microfilm/Microform / Microfiche/Aperture cards
VHS and various tape conversion
Maps and oversize document conversion
Photographs and slide conversion
Bound book conversion
Litigation Support
Supporting the Transition to Electronic Records
The Office of Budget and Management (OMB) and the National Archives and Records Administration (NARA) will require all business processes and recordkeeping transition to a fully electronic environment because NARA's acceptance of paper records will end by December 31, 2022. Read the OMB memo regarding Transition to Electronic Records (M-19-21) dated June 28, 2019. Additionally, agencies are responsible for:
Permanent federal records AND appropriate metadata must be created, managed, and maintained in electronic format by 2022.
Federal agencies should manage all permanent electronic records in an electronic format by 2019.
Federal agencies must close their own records storage facilities and transfer any inactive, temporary paper records to a Federal Records Center or Commercial Storage Facility by 2022.
The deadline for agencies to transition their government records management (including metadata) entirely into an electronic environment is December 31, 2022. NARA will stop accepting new paper records after the deadline.
Factors Critical for M-19-21 Compliance
A solid digitization strategy to convert all permanent records to digital format.
Automated system(s) to capture, categorize and securely retain electronic content and metadata.
Measures to ensure integrity and preservation of electronic records throughout entire lifecycle.
Integrated management capabilities for electronic records, regardless of storage location.
Methods for quick and accurate responses to FIOA requests.
Regular Records Management (RM) program audits to validate records management effectiveness and maintain a current records inventory.
Policies and systems to prepare for transfer of electronic records to NARA.
Contact Us
Learn about this service
James Helton
James.Helton@psc.hhs.gov
301-594-0553
Existing Customer Inquiries