Image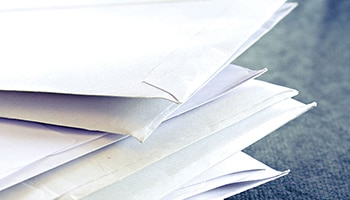 PSC Kansas City Mail Operations provides official government mail services to all federal agencies in the Regional headquarters building and surrounding locations. Our expertise and relationships with the USPS and other carriers means we can go beyond what is standard, to find the smartest, most cost-effective, and quickest mailing solutions, whether you're mailing a few postcards, receiving hundreds of pieces of mail, or sending thousands of letters.  PSC strives to provide our customers with the most responsive mail support that includes a broad array of offerings.
Services offered to all federal agencies in the Kansas City Regional Office:
Secure Scanning: Secure scanning of all mail and packages before final delivery to addressees
Secure Lockers: Provide secure parcel lockers for accountable mail that adds a level of security and convenience for all deliveries.  Improves operational efficiency with an automated electronic locker system that securely stores packages for easy consumer retrieval.
Rate-shopping of all Outbound Mail: Our team selects the lowest-cost method to fulfill our customers' expectations in an instant. A savings of .05 on first class metered mail and up to 38% savings for packages as compared to commercial rates.
Mail Visibility: Offer full visibility into chain-of-custody for accountable mail
Managing Spending: Manage your postal spending by utilizing our online dashboard to provide you with detailed quarterly reports
Routing for UPS and FedEx via USPS: Route all UPS and FedEx accounts through the government-wide Small Package Delivery solution – Next Generation Delivery Service. This allows for government discounts on shipments and accountability of federal funds.
Our centralized mail facility provides a valuable resource and administrative support to federal agencies within the regional headquarters that allows their staff to focus on the agencies mission.
Resources for Mailing and Tracking Packages
United States Postal Service:  Quick tools and information on services including Zip Code finder, tracking of an accountable package and information on International shipping.
UPS Packaging Advisor: The packaging advisor is an online tool that will assist with determining what you need for shipments sent via UPS.
FedEx: Tools and information for shipping and tracking packages sent via FedEx.
Contact Us
Learn about this service
Lisa Sneed
Email: Lisa.Sneed2@psc.hhs.gov
Phone: (202) 868-9219
Existing Customer Inquiries