Image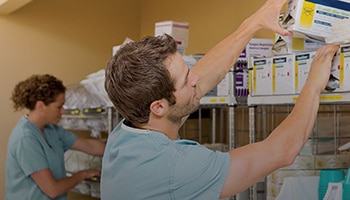 PSC is a full-service, international source of pharmaceutical, medical, and dental supplies to federal civilian agencies, as well as, branches of the U.S. Armed Forces. Our state-of-the-art warehouse and fulfillment centers, feature 250,000 square feet of climate controlled storage space and convenient proximity to major highways, rails, and other shipping and distribution hubs.
Services offered to Federal agencies include:
Procurement of pharmaceutical, medical, and dental equipment and supplies
Distribution, storage, and relabeling
Custom medical, dental, and diagnostic kits and assemblies
Specialized assistance and logistical support for Presidential initiatives, national emergencies, and medical readiness programs
On-site training for supply-chain management
Technical assistance and supply support for foreign assistance projects
Shelf Life Extension Program (SLEP)
Contact
SCMS Customer Service Team
Email: SCMS.Customer.Service.PSC@psc.hhs.gov
Phone: 1-800-642-0263
Ordering Medical Supplies
Do you need to obtain pricing, availability, and place orders for medical supplies?
Please contact the PSC Medical Supply Fulfillment Customer Care Team at 1-800-642-0263 or e-mail us at SCMS.Customer.Service.PSC@psc.hhs.gov.
Medical Supply Fulfillment Resources
Documents