Support the National Adult Immunization Plan
Achieving the goals of the National Adult Immunization Plan (NAIP) requires the collaboration of partners around a shared vision and coordination of activities through focused implementation efforts. Meaningful progress will be achieved only if stakeholders are engaged in shared, sustained, focused, and coordinated actions.
Regional Meetings
Support adult immunization in your community! Across the nation, the HHS National Vaccine Program Office and select regional offices are collaborating to convene action-oriented meetings in the regions that are designed to discuss and spark action around the NAIP.
2019 Meetings
2018 Meetings
View the 2018 Regional Meeting Summary
In 2018, NVPO and select HHS Regional Offices convened six meetings on adult immunization throughout the United States. View the final summary.
How Our Partners Support the NAIP
Our partners are supporting adult immunization efforts in a number of ways.
Tell Us How You Support the NAIP
Please email us and tell us how you are supporting the NAIP! We may feature these activities on our website. Be sure to include the activity, how it supports the NAIP, and any impact this activity has had — or may have — in the future.
NAIP Promotional Tools
Please help us promote the NAIP through the communication channels you regularly use to engage your colleagues, partners, and members — such as newsletters, presentations, emails, and digital media. You can consider using our:
You may also use the following graphics:
Square Graphic - 300 x 250px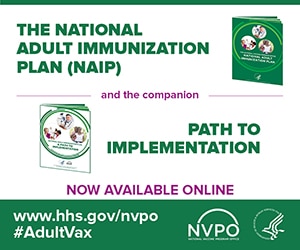 NAIP Badge - 1500 x 1500px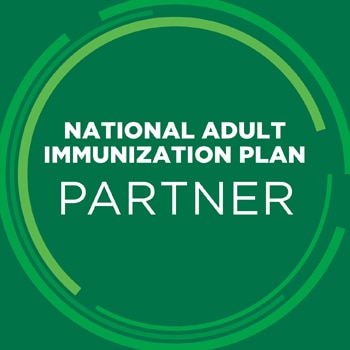 Wide Graphic - 487 x 60px
Twitter Header Graphic - 1500 x 500px

Content created by National Vaccine Program Office