Image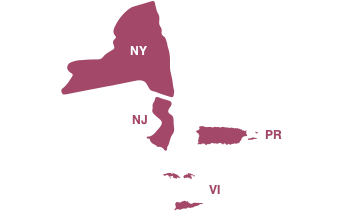 Region 2, based in New York City, New York, serves New Jersey, New York, and the U.S. territories in the Caribbean—Puerto Rico and the U.S. Virgin Islands. Additionally, Region 2 serves eight federally recognized Tribal Nations, which are all located in New York State.
Separated by 1,500 miles, Region 2 is bounded by New Jersey and New York in the northeast, and by Puerto Rico and the U.S. Virgin Islands in the Caribbean. Anchoring Region 2 is New York City, the most populous city in the United States, and a leading financial center in the country. It is home to over 8 million people alone and contains the largest population of Puerto Ricans in the country outside of Puerto Rico itself.
The region, though small in terms of area in relation to its regional counterparts, is home to nearly 33 million individuals. It encompasses an array of racial and ethnic communities, Tribal Sovereign Nations and urban Indians, economic drivers and divides, social and political networks, as well as distinct biomes and living environments. Puerto Rico and the U.S. Virgin Islands in particular, have faced increasingly frequent and devastating natural disasters, as the Caribbean continues to be adversely affected by rising temperatures and sea levels— hallmarks of climate change. This diverse collection of states, territories, and Tribal areas greatly differs in population size, demographics, and public health needs, providing unique opportunities for collaboration and working to address the many barriers to health equity in such a diverse and dispersed region.
Stay Connected with Region 2
For more information or if you'd like to subscribe to our distribution lists, please contact Kristen Lepore:
Region 2 Health Operations Staff
Region 2 Regional Health Administrator
April Smith-Hirak, PhD
april.smith-hirak@hhs.gov
April Smith-Hirak, PhD is the Regional Health Administrator (RHA) for Region 2. As RHA for the Office of the Assistant Secretary for Health (OASH), U.S. Department of Health and Human Services (HHS), Dr. Smith-Hirak is responsible for public health leadership across the region and assists in policy delivery in several areas, including COVID-19, health equity, opioids, and chronic and infectious disease prevention.
Dr. Smith-Hirak has been dedicated to federal public health work since 2004 and has worked with Region 2 since 2010. Prior to that, she worked with the Centers for Disease Control and Prevention in Atlanta where she worked to address a broad range of public health areas, including policy and regulatory work in infectious diseases, nutrition and physical activity, diabetes education, environmental health policy, clinician outreach and communication, emergency response and preparedness, and public and private public health partnerships. She also served as a member of the policy team for the 2005 White House Conference on Aging.
Dr. Smith-Hirak holds a PhD in Psychology from Yale University, where she conducted research with the Rudd and PACE Centers, focusing on Social and Health Psychology. Her dissertation research focused on issues surrounding obesity stereotyping, stereotype transfer, and discrimination. Other areas of her graduate research included the relationship between health and positive coping skills. She completed her undergraduate degree in Psychology at Ithaca College in Ithaca, New York where she researched the longevity of personality traits across childhood and adolescence.
Senior Public Health Advisor
Kristen Lepore, MPH
kristen.lepore@hhs.gov
Regional Minority Health Analyst
Marline Vignier, MPH, MCHES
marline.vignier@hhs.gov
Regional Women's Health Analyst
Cindy Rosales
cindy.rosales@hhs.gov