Image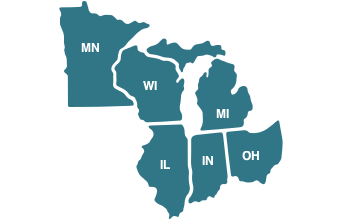 Region 5, based in Chicago, serves Illinois, Indiana, Michigan, Minnesota, Ohio, and Wisconsin.
Comprised of six Midwestern states, Region 5 is notable in that each state borders at least one of the Great Lakes. Consisting of large metropolitan cities, vast suburban areas, scenic lakefront beaches, and acres of fertile farmland, Region 5 is home to 34 federally recognized American Indian tribal governments and a diverse population with many cultures and languages.
Region 5 is also the home to abundant academic medical centers, health policy research institutions, medical and dental associations, and innovative community-based organizations. The unique makeup of this region requires attention to racial and ethnic disparities, and cultural attunement in establishing partnerships and communication channels with Tribal, federal, state, and local organizations; and in working to address health inequities across the region.
Region 5 Health Operations Staff
Acting Region 5 Regional Health Administrator
Catherine Lindsey Satterwhite, PhD, MSPH, MPH
catherine.satterwhite@hhs.gov
Catherine Lindsey Satterwhite, PhD, MSPH, MPH is the Regional Health Administrator for the U.S. Department of Health and Human Services, Office of the Assistant Secretary for Health, in Region 7. She is also the Acting Regional Health Administrator for Region 5. As the senior federal public health official and scientist in the region, Dr. Satterwhite performs essential functions for the Department of Health and Human Services (HHS) in three major areas: prevention, preparedness, and agency-wide coordination.
A Kansas native, Dr. Satterwhite is an epidemiologist with experience in government and academia. Before joining HHS, she was a tenured Associate Professor in both the Department of Preventive Medicine and Public Health and the Department of Obstetrics and Gynecology at the University of Kansas Medical Center (KUMC) in Kansas City, KS. In addition to teaching medical students and students pursuing public health degrees, Dr. Satterwhite worked directly with the Kansas City, MO Health Department as a Senior Epidemiologist during their successful accreditation process through the Public Health Accreditation Board. From 2018-2019, Dr. Satterwhite served as President of KUMC's Women in Medicine and Science organization.
Prior to joining the faculty at KUMC, Dr. Satterwhite worked for over a decade at the U.S. Centers for Disease Control and Prevention (CDC), first in the Division of HIV/AIDS Prevention, then in the Division of STD Prevention. She was an international expert in the epidemiology and surveillance of Chlamydia trachomatis infections. Dr. Satterwhite also played an integral leadership role in the Infertility Prevention Project, a multi-agency and nationwide effort aimed at reducing the adverse outcomes of chlamydia, including infertility. While at CDC, she earned multiple awards for excellence in the practice of epidemiology.
Dr. Satterwhite earned three graduate degrees from Emory University's Rollins School of Public Health in Atlanta, GA, including a PhD in Epidemiology. She earned her Bachelor of Arts degree from New York University.
Regional Minority Health Analyst
Mildred Hunter, MPH
mildred.hunter@hhs.gov
Regional Women's Health Analyst
Michelle Hoersch, MS
michelle.hoersch@hhs.gov