Image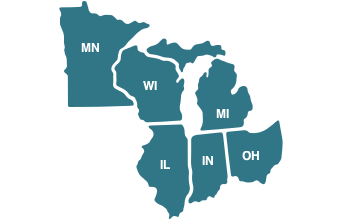 Region 5, based in Chicago, serves Illinois, Indiana, Michigan, Minnesota, Ohio, and Wisconsin.
Comprised of six Midwestern states, Region 5 is notable in that each state borders at least one of the Great Lakes. Consisting of large metropolitan cities, vast suburban areas, scenic lakefront beaches, and acres of fertile farmland, Region 5 is home to 34 federally recognized American Indian tribal governments and a diverse population with many cultures and languages.
Region 5 is also the home to abundant academic medical centers, health policy research institutions, medical and dental associations, and innovative community-based organizations. The unique makeup of this region requires attention to racial and ethnic disparities, and cultural attunement in establishing partnerships and communication channels with Tribal, federal, state, and local organizations; and in working to address health inequities across the region.
Stay Connected with Region 5
For more information or if you'd like to subscribe to our distribution lists, please contact: CDR Kristine Scherbring
Region 5 Health Operations Staff
Region 5 Regional Health Administrator
CAPT Joshua W. Devine, PharmD, PhD
joshua.devine@hhs.gov
CAPT Joshua W. Devine, PharmD, PhD is the Regional Health Administrator (RHA) for Region 5. He serves as the senior federal public health official in the region, providing leadership and support for the work of the Department with a focus on public health action. His jurisdiction comprises the diverse communities of 53 million Americans inhabiting six Midwestern states.
Prior to joining the Office of the Assistant Secretary for Health (OASH), CAPT Devine served as the Technical Director for the Chicago Division of Financial Management and Fee for Service Operations in the Centers for Medicare and Medicaid Services (CMS). In this role, he focused on regional and national implementation of varied Medicare and Innovation Center programs designed to provide patient-centered health care that promotes quality and improves outcomes. Before joining CMS, CAPT Devine worked for the Defense Health Agency where he oversaw economic evaluation and outcomes research for pharmaceuticals covered under the Defense Department's $7 billion TRICARE pharmacy program.
CAPT Devine has served as an officer in the Uniformed Services managing health care programs for 20 years. He received his PharmD from Drake University and his PhD from the University of Minnesota. CAPT Devine is Board Certified in Pharmacotherapy and is a Fellow of the American Pharmacists Association. He holds numerous awards and accolades from the U.S. Air Force and U.S. Public Health Service.
Senior Public Health Advisor
CDR Kristine Scherbring, MSN, RN
kristine.scherbring@hhs.gov
Regional Minority Health Analyst
Mildred Hunter, MPH
mildred.hunter@hhs.gov
Regional Women's Health Analyst
Michelle Hoersch, MS
michelle.hoersch@hhs.gov