Image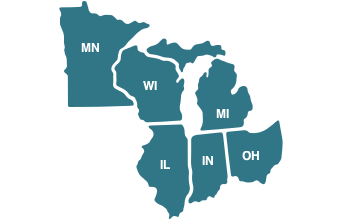 Region 5, based in Chicago, serves Illinois, Indiana, Michigan, Minnesota, Ohio, and Wisconsin.
Comprised of six Midwestern states, Region 5 is notable in that each state borders at least one of the Great Lakes. Consisting of large metropolitan cities, vast suburban areas, scenic lakefront beaches, and acres of fertile farmland, Region 5 is home to 34 federally recognized American Indian tribal governments and a diverse population with many cultures and languages.
Region 5 is also the home to abundant academic medical centers, health policy research institutions, medical and dental associations, and innovative community-based organizations. The unique makeup of this region requires attention to racial and ethnic disparities, and cultural attunement in establishing partnerships and communication channels with Tribal, federal, state, and local organizations; and in working to address health inequities across the region.
Region 5 Health Operations Staff
Acting Region 5 Senior Public Health Advisor
CDR Kimberly Davids, PharmD, MPH, CPH
kimberly.davids@hhs.gov
Prior to joining the Office of the Assistant Secretary for Health (OASH), CDR Davids served as a Regional Medical Countermeasure Advisor for the Office of the Assistant Secretary for Preparedness and Response (ASPR) in Kansas City, MO. In this role, she provided technical assistance, leadership, and guidance to state and local health departments in Iowa, Missouri, Kansas, and Nebraska on the development and implementation of medical countermeasure (MCM) programs to receive, store, distribute, and dispense critical medicines and supplies during a public health emergency.
CDR Davids began her career in Anchorage, Alaska and Lawrence, KS working with Alaska Native and American Indians as an outpatient clinical pharmacist. After receiving her MPH, CDR Davids transferred from Indian Health Service to Health Resources and Services Administration (HRSA) in Kansas City as the State Lead for Kansas and Nebraska National Health Service Corps which provides support for the recruitment and retention of primary care providers in Health Professional Shortage Areas. 
CDR Davids has served as an officer in the US Public Health Service for over 15 years. She received her Doctorate in Pharmacy from the University of Oklahoma Health Sciences Center and her Master of Public Health from the University of Kansas Medical Center. 
Regional Minority Health Analyst
Mildred Hunter, MPH
mildred.hunter@hhs.gov
Regional Women's Health Analyst
Michelle Hoersch, MS
michelle.hoersch@hhs.gov