Image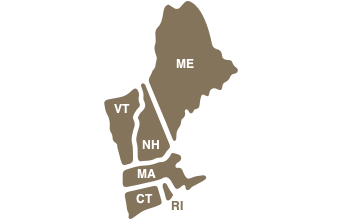 The Region 1 Office, based in Boston, Massachusetts, serves the New England region, which includes Connecticut, Maine, Massachusetts, New Hampshire, Rhode Island, and Vermont, as well as 10 federally recognized Tribal nations. New England is geographically compact and densely populated with more than 14 million residents within 71,000 square miles, and containing three of the four most densely populated states in the nation (MA, CT and RI).
New England's unique geographic configuration means that in a single drive of 250 miles, five of the six state borders are crossed. Individuals and families often live in one state while working or receiving health care in another. As a result of this border permeability, the New England states must work together to harmonize health policy and messaging across the region.
Health care delivery, clinical research, development of new technologies and pharmaceuticals, and the education of our nation's health care professionals have been priorities in New England for decades. Additionally, New England hosts some of the premier public health and medical schools in the nation, as well as some of the most innovative state and local public health agencies, positioning the region at the forefront of public health transformation. Whether as the birthplace of the first modern community health center in Dorchester, MA in 1965, or the first region in the nation to have a community health worker (CHW) coalition, New England has been at the cutting edge of progressive public health policy and financing, with a focus on addressing health inequities and social determinants of health.
Stay Connected with Region 1
For more information or if you'd like to subscribe to our distribution lists, please contact: Natalia Guevara
Region 1 Health Operations Staff
Region 1 Regional Health Administrator
Betsy Rosenfeld, JD
betsy.rosenfeld@hhs.gov
Betsy Rosenfeld is the Regional Health Administrator (RHA) for the U.S. Department of Health and Human Services (HHS) Office of the Assistant Secretary for Health (OASH), which serves the six New England states in HHS Region 1 (Connecticut, Maine, Massachusetts, New Hampshire, Rhode Island and Vermont).
As the chief regional public health official for HHS/OASH, Ms. Rosenfeld leads a team responsible for a broad portfolio of public health work organized around principles of health equity and eliminating racism: addressing the broad range of health disparities, especially as they have manifested during the COVID-19 pandemic; girls' and women's health; infectious disease; substance use and mental health; poverty, economic empowerment, and supporting an economy built on dignity; and climate change and environmental justice.
In addition, the New England HHS/OASH team has led the nation in developing and leading a 75-member community health worker (CHW) regional coalition which works on CHW policy issues across the New England states as well as participating in national-level policy initiatives. The Region 1 CHW policy work underway since 2002 has, with state and other partners, focused on: securing high quality training for CHWs in a variety of health domains; encouraging reliable, insurance-based reimbursement for CHW services; integrating CHWs into the community-based health care team with respect and reciprocity; and supporting the robust evaluation of the impact of CHW services on individuals and communities.
Ms. Rosenfeld serves as the primary liaison for state and local public health officials as they interact with HHS/OASH, and her team regularly partners with other federal agencies, as well as community based organizations, academic public health and medical centers, health delivery systems, philanthropies and a broad range of non-health partners to improve health outcomes across the New England states.
Prior to serving as the RHA in Region 1, Ms. Rosenfeld served as the Deputy Regional Health Administrator (DRHA). Prior to her federal service, Ms. Rosenfeld worked as a health care lawyer at Ropes & Gray in Boston on matters ranging from patient care issues to health system mergers. During law school, Ms. Rosenfeld worked as a legal services lawyer, representing low-income clients on housing and health matters.
Ms. Rosenfeld graduated from Harvard College and Harvard Law School, and has served on numerous non-profit boards and committees in the New England region.
Senior Public Health Advisor
Natalia T. Guevara, MS
natalia.guevara@hhs.gov
Regional Minority Health Analyst
Georgia Simpson, MS
georgia.simpson@hhs.gov
Regional Women's Health Analyst
Tina Jui-Yu Sang, MPH, MSW
tina.sang@hhs.gov