Image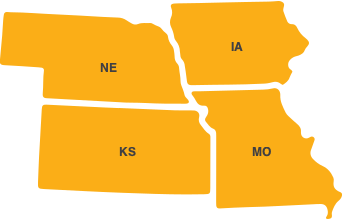 The Region 7 Office, based in Kansas City, Missouri, serves Iowa, Nebraska, Missouri, and Kansas. Region 7 is also home to nine federally recognized tribes.
About 90% of the region's 13.5 million residents are within 4 hours' driving time of Kansas City. Three major overland trails developed in the mid-1800s – the Santa Fe, California, and Oregon – all originate in Missouri and pass through the Kansas City metropolitan area.
Due to the range of rural towns and urban cities, the Region 7 population experiences a variety of health concerns. The ORHO Region 7 office works with stakeholders to improve uptake of life-saving vaccines, increase physical activity, promote harm reduction to address substance use disorders, and respond to new and emerging public health challenges with an overall emphasis on health equity for all. Region 7 fosters creative and productive partnerships between private and public sectors and supports innovative approaches to public health prevention and promotion.
Stay Connected with Region 7
For more information or if you'd like to subscribe to our distribution lists, please contact: CDR Kimberly Davids
Region 7 Health Operations Staff
Region 7 Regional Health Administrator
Catherine Lindsey Satterwhite, PhD, MSPH, MPH
catherine.satterwhite@hhs.gov
Catherine Lindsey Satterwhite, PhD, MSPH, MPH is the Regional Health Administrator for the U.S. Department of Health and Human Services, Office of the Assistant Secretary for Health, in Region 7. As the senior federal public health official and scientist in the region, Dr. Satterwhite performs essential functions for the Department of Health and Human Services (HHS) in three major areas: prevention, preparedness, and agency-wide coordination.
A Kansas native, Dr. Satterwhite is an epidemiologist with experience in government and academia. Before joining HHS, she was a tenured Associate Professor in both the Department of Preventive Medicine and Public Health and the Department of Obstetrics and Gynecology at the University of Kansas Medical Center (KUMC) in Kansas City, KS. In addition to teaching medical students and students pursuing public health degrees, Dr. Satterwhite worked directly with the Kansas City, MO Health Department as a Senior Epidemiologist during their successful accreditation process through the Public Health Accreditation Board. From 2018-2019, Dr. Satterwhite served as President of KUMC's Women in Medicine and Science organization.
Prior to joining the faculty at KUMC, Dr. Satterwhite worked for over a decade at the U.S. Centers for Disease Control and Prevention (CDC), first in the Division of HIV/AIDS Prevention, then in the Division of STD Prevention. She was an international expert in the epidemiology and surveillance of Chlamydia trachomatis infections. Dr. Satterwhite also played an integral leadership role in the Infertility Prevention Project, a multi-agency and nationwide effort aimed at reducing the adverse outcomes of chlamydia, including infertility. While at CDC, she earned multiple awards for excellence in the practice of epidemiology.
Dr. Satterwhite earned three graduate degrees from Emory University's Rollins School of Public Health in Atlanta, GA, including a PhD in Epidemiology. She earned her Bachelor of Arts degree from New York University.
Senior Public Health Advisor
CDR Kimberly Davids, PharmD, MPH, CPH
kimberly.davids@hhs.gov 
Regional Minority Health Analyst
Corstella Johnson, MPH, CHES
corstella.johnson@hhs.gov
Regional Women's Health Analyst
Simone Taylor, MS, RN
simone.taylor@hhs.gov