Image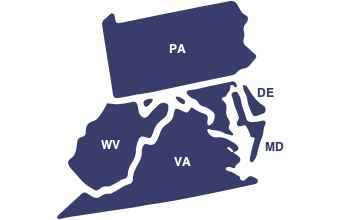 Region 3, based in Philadelphia, serves Delaware, Maryland, Pennsylvania, Virginia, West Virginia, and the nation's capital, Washington, D.C. The region is remarkable for its diversity. The Northeast Corridor and Interstate 95 link a stretch of urban cities, sprawling suburbs, and rural communities, forming the Mid-Atlantic portion of the Northeast megalopolis. The disparities in the health status of states within this region drive attention to a focus on health equity, bridging the urban-rural divide, and building regional partnerships.
Region 3 is the home of many world-renowned health institutions, distinguished universities, and robust local and state health-related organizations, which offers fortunate opportunities for partnerships and collaboration. Moving the needle to improve the health of Region 3 residents is the region's primary goal. Through collaborative efforts with stakeholders, we have worked to increase vaccination rates, reduce maternal mortality, support those with substance use disorder, and assist with lowering the rates of heart disease, asthma, obesity, and HIV/AIDS.
Stay Connected with Region 3
For more information or if you'd like to subscribe to our distribution lists, please contact: Mahak Lalvani
Region 3 Health Operations Staff
Region 3 Regional Health Administrator
Dalton Paxman, PhD
dalton.paxman@hhs.gov
Dalton Paxman, PhD is the Regional Health Administrator (RHA) for the mid-Atlantic region, where he oversees public health initiatives for the Office of the Assistant Secretary for Health (OASH), in the U.S. Department of Health and Human Services (HHS). Dr. Paxman is currently the longest serving RHA, having been in this position since 2000.
From 1996-2000, Dr. Paxman served as the Senior Environmental Health Advisor in the Office of Disease Prevention and Health Promotion, providing advice to the Assistant Secretary for Health and the Surgeon General on environmental health issues. He was the senior staff member on key multi-agency environmental health and science policy initiatives, including both the President's Food Safety Initiative and the Task Force on Children's Environmental Health and Safety. He also served as the Department's liaison to the National Science and Technology Council for the White House Office of Science and Technology Policy.
As a Senior Policy Analyst in the Environment Program at the Office of Technology Assessment in the U.S. Congress, Dr. Paxman directed congressional studies in the areas of health risk assessment research, comparative risk assessment, and environmental regulations. Prior to that, Dr. Paxman was a research toxicologist and a post-doctoral scholar for the UC Berkeley School of Public Health. He received his Ph.D. in Environmental Health Sciences from the Johns Hopkins University School of Hygiene and Public Health, where he received the Kruze Award for Excellence in Environmental Health Research.
Senior Public Health Advisor
Mahak Lalvani, MPA
mahak.lalvani@hhs.gov
Regional Minority Health Analyst
Contact Mahak Lalvani, mahak.lalvani@hhs.gov
Regional Women's Health Analyst
Christine Woolslayer, MEd
christine.woolslayer@hhs.gov