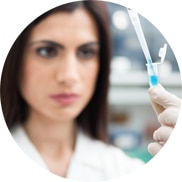 This goal of the National Adult Immunization Plan (NAIP) recognizes that there are opportunities for the development of new vaccines, more effective versions of existing vaccines for adults, and technological advancements to improve vaccine delivery.
Goal 4 Objectives
The following two objectives, and a number of sub-objectives detailed further in the NAIP, were developed to foster innovation and future advancements in both adult vaccine development and new technology. The first objective, in bold below, was chosen in the National Adult Immunization Plan: A Path to Implementation as one of eight implementation priorities.
Develop new vaccines and improve the effectiveness of existing vaccines for adults.
Encourage new technologies to improve the distribution, storage, and delivery of adult vaccines.
Goal 4 Priority Measures
The implementation of this plan demands regular monitoring and documentation of progress, challenges, and opportunities. Therefore, the following baseline indicators were selected to measure progress in the NAIP and will inform future implementation and quality improvement efforts.
Number of vaccines in clinical development (phase II or III clinical trials) with an expected adult indication
Number of vaccines on CDC-contracted vaccines pricelist that include a 2D barcode on on the unit of use or primary vaccine product (e.g., vials or syringes)
Share Your Story

Many stakeholders play a role in improving the adult immunization system. Tell us how you or your organization are working to uphold the goals of the National Adult Immunization Plan!
#AdultVax
Download Reports