Image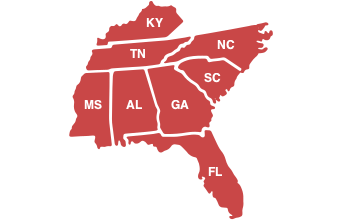 The Region 4 Office, based in Atlanta, Georgia Alabama, Florida, Georgia, Kentucky, Mississippi, North Carolina, South Carolina, and Tennessee.
This large swathe of predominantly rural areas provides unique challenges in promoting public health priorities and building regional relationships.
The Region 4 office focuses on initiatives that address these challenges and the health inequities often prevalent in rural communities, while working to foster and promote strategic federal, state, and local partnerships.
Region 4 Health Operations Staff
Region 4 Regional Health Administrator
John W. Gilford, PhD 
john.gilford@hhs.gov
John W. Gilford, PhD is the Regional Health Administrator for the U.S. Department of Health and Human Services (HHS), Office of the Assistant Secretary for Health (OASH), in Region 4. As the senior federal public health official for HHS' largest geographic region, he performs essential functions for the Department in the areas of prevention, preparedness, and agency-wide coordination.
Before joining OASH, Dr. Gilford was employed at the Centers for Disease Control and Prevention (CDC) for 10 years as a Lead Behavioral Scientist. While at CDC he served as the Senior Scientist for the Prevention Practice and Translation Branch (PPTB) in the Division of Violence Prevention. In this role, Dr. Gilford worked across several key projects including serving as Technical Lead and Project Manager for the Violence Prevention Technical Assistance Center (VPTAC). From 2011 to 2017, he served as the Team Lead for the Health Department Monitoring and Evaluation Team (HMET) in the Division of HIV/AIDS Prevention (DHAP), Program Evaluation Branch (PEB). As HMET team lead, Dr. Gilford oversaw the monitoring and evaluation of numerous CDC-funded state and local health department HIV prevention programs. He has been deployed on several CDC emergency responses including the 2010 Haiti Cholera Outbreak (Atlanta Emergency Operations Center), 2015 Ebola Outbreak (Sierra Leone), and 2016 Zika Virus Outbreak, (St. Croix, U.S. Virgin Islands).
Prior to joining CDC, Dr. Gilford worked at Macro International (now ICF) as a Technical Director and Senior Project Manager. There he oversaw several national and state evaluations including the Cross-site Evaluation of the National Child Traumatic Stress Initiative, SAMHSA's Evidence Based Treatment Effectiveness Study, and the Georgia Department of Family and Children's Services Training Needs Assessment and Evaluation Project. He completed his undergraduate studies at the University of Cincinnati (BA Psychology) and graduate work at the University of Georgia (MSW and PhD), where he has taught Research Methods and Program Evaluation as an adjunct professor since 2003.
Senior Public Health Advisor
John Gilford, PhD, john.gilford@hhs.gov
Regional Minority Health Analyst
Roshunda Ivory, DrPH, CHES
roshunda.ivory@hhs.gov
Regional Women's Health Analyst
Kevin Greene, PhD
kevin.greene@hhs.gov