Image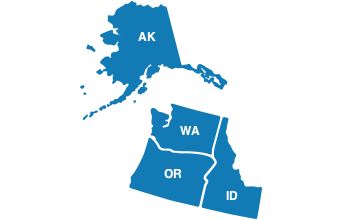 The Region 10 Office, based in Seattle, Washington, serves Alaska, Idaho, Oregon, and Washington.
There are many factors that make Region 10 unique. The states of Region 10 contain almost one quarter (23%) of the land mass of the United States as well as 30% of the total inland waters. Region 10 also has the greatest number of federally recognized tribes (271) of all HHS regions.
Region 10 collaborates with a wide variety of partners and stakeholders to address priority public health issues including immunization, health equity, and behavioral health. To ensure that public health issues specific to American Indian and Alaska Native communities are addressed in its work, Region 10 develops and maintains relationships with tribes and tribal health organizations.
Stay Connected with Region 10
For more information or if you'd like to subscribe to our distribution lists, please contact: Matthew Feist
Region 10 Health Operations Staff
Region 10 Regional Health Administrator
Renée Bouvion, MPH
renee.bouvion@hhs.gov
Renée Bouvion, MPH is the Regional Health Administrator (RHA) for Region 10. She provides strategic direction and oversight to the office. Ms. Bouvion and her team work with a broad range of public health and community stakeholders to address the Department of Health and Human Services (HHS) and regional priorities through partnership and collaboration.
Ms. Bouvion joined the regional office in 2002 and previously held positions as a public health advisor and Deputy RHA. During her time in Region 10, she has established key relationships with state and local public health stakeholders to catalyze action on a broad range of issues including chronic disease prevention, immunization, and adolescent health. As RHA, she leads regional federal interagency meetings to enhance efforts to address the opioid crisis and convenes meetings with stakeholders on public health priorities.
Prior to joining HHS, Ms. Bouvion held a position as a research analyst with the Washington Department of Social and Health Services. She received a Master of Public Health from the University of Washington in 2001. Prior to graduate school, Ms. Bouvion held various positions in the recruitment division of Peace Corps in Seattle, WA and Washington, DC. Her interest in public health began while she served as a Peace Corps Volunteer in Mauritania, West Africa from 1992 to 1994.
Senior Public Health Advisor
Matthew Feist, MS
matthew.feist@hhs.gov
Regional Minority Health Analyst
Contact Matthew Feist, matthew.feist@hhs.gov

Regional Women's Health Analyst
Contact Matthew Feist, matthew.feist@hhs.gov