Early childhood vaccines are one of the best ways to protect your child from serious diseases that can be especially dangerous for infants and very young children.
By getting your child vaccinated, you can help keep your family and your community healthy.
On this page, you'll find answers to common questions about vaccines for infants and young children.
Which vaccines are recommended for infants and children birth through age 6?
Infants and young children need vaccines to protect them from infections that can cause diseases like chickenpox, measles, and whooping cough.
Check this easy-to-read vaccine schedule from the Centers for Disease Control and Prevention (CDC) to find out which vaccines are recommended for children from birth through age 6.
Image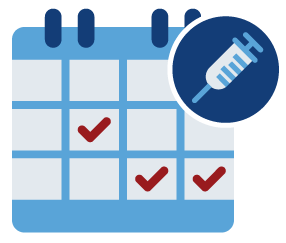 Find the right vaccines for you
Some infants and young children may need additional vaccines — for example, if they'll be traveling outside the United States. Learn more about vaccines for:
How do I keep track of my child's vaccinations?
Be sure to ask the pediatrician for your child's vaccine records. There are also some tools that can help you stay on top of your child's vaccinations.
Why does my child need a vaccine for chickenpox? Isn't it a mild disease?
Chickenpox can be serious. Though it's mild for many children, others may have blisters that get infected — or even develop pneumonia (lung infection). Chickenpox can even be deadly for newborns, who are too young to get the vaccine. By getting your kids vaccinated, you're protecting your child and infants in your community from getting chickenpox.
Do I have to get these vaccines now? Can't I want until they start school?
Experts don't recommend waiting until children start school to get childhood vaccines. That's because children can come into contact with vaccine-preventable diseases before they start school. This can happen any time they're around people who aren't protected from these diseases — like when playing with friends, at daycare, or even at the grocery store.
That's why it's so important to get your child vaccinated before they come into contact with serious diseases.
What about side effects?
Common side effects from getting vaccinated include pain, swelling, or redness where the shot was given. Serious side effects from vaccines are very rare.
Learn more about: