Vaccines are especially important for older adults. As you get older, your immune system weakens and it can be more difficult to fight off infections. You're more likely to get diseases like the flu, pneumonia, and shingles — and to have complications that can lead to long-term illness, hospitalization, and even death.
If you have an ongoing health condition — like diabetes or heart disease — getting vaccinated is especially important. Vaccines can protect you from serious diseases (and related complications) so you can stay healthy as you age.
Getting vaccinated can help keep you, your family, and your community healthy.
On this page, you'll find answers to common questions about vaccines for adults age 65 and older.
Which vaccines are recommended for adults age 65 and older?
Check this easy to read vaccine schedule (PDF - 148KB) from the Centers for Disease Control and Prevention to find out which vaccines are recommended for adults age 65 and older.
Image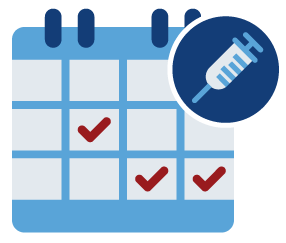 Find the right vaccines for you
You may also need other vaccines — for example, if you're planning to travel outside the United States. Learn more about vaccines for:
Does Medicare cover vaccines for older adults?
Medicare Part B covers vaccines that protect against the flu and pneumococcal disease — and the hepatitis B vaccine if you're at increased risk for hepatitis B. It also covers vaccines that you might need after an injury (like the tetanus vaccine) or coming into contact with a disease (like the rabies vaccine).
Medicare Part D plans generally cover more vaccines than Part B. But depending on your Medicare Part D plan, you may have out-of-pocket costs for these vaccines. Contact Medicare to find out what's covered.