Topics on this page: Background | Mission Statement | History | Organization Chart
---
The Departmental Appeals Board (DAB) provides impartial, independent review of disputed decisions in a wide range of Department programs under more than 60 statutory provisions. The DAB generally issues the final decision for the Department, which may then be appealed to federal court. The DAB may issue a recommended decision for action by another official. The DAB has three broad areas of jurisdiction each with its own set of judges and staff. The DAB also has a leadership role in implementing Alternative Dispute Resolution (ADR) across the Department since the DAB Chair is the designated Dispute Resolution Specialist under the Administrative Dispute Resolution Act of 1996. DAB staff include trained mediators and facilitators. The DAB's ADR responsibilities include providing ADR services and training and coordinating and facilitating negotiated rulemaking committees.
The DAB resolves disputes with outside parties such as state agencies, Head Start grantees, universities, nursing homes, doctors, and Medicare beneficiaries. In a single year, disputes heard by the DAB may involve as much as $1 billion in federal grant funds.
DAB's mission is to provide the best possible dispute resolution services for the people who appear before us, those who rely on our decisions, and the public.
The following principles guide us:
We provide a great work environment for each other, we treat each other with respect, and we take pride in what each of us, and all of us, do.
We are fair and impartial, and we always try to assure that our customers perceive us so.
We do our job as promptly as possible.
We deliver products which are thorough, well-reasoned and written in concise, clear English.
We value creativity and innovation, and we always seek better ways to do things in every part of our job.
We each take personal responsibility for assuring that customers' needs are met.
We help parties economize in case preparation.
We empower parties to narrow and resolve issues on their own or with the help of mediation or other alternative dispute resolution.
The DAB was chartered in 1973 as the Departmental Grant Appeals Board; until the 1980's, DAB jurisdiction was limited to disputes arising under the large public assistance grants, such as Medicaid and Aid to Families with Dependent Children, as well as discretionary grant programs. The Administrative Conference of the United States cited the DAB as a model administrative dispute resolution body. DAB's jurisdiction has gradually increased. In 1988, the Secretary delegated to the DAB responsibility for adjudicating civil money penalties and exclusions imposed under a wide range of fraud and abuse authorities. In 1993, the Secretary delegated to the DAB responsibility for hearing appeals in enforcement cases brought by the Centers for Medicare & Medicaid Services (CMS) (formerly known as the Health Care Financing Administration or HCFA). Also, in 1995, the Secretary delegated to the DAB the Medicare Appeals Council function of hearing appeals in Medicare coverage and payment cases and entitlement cases.
Image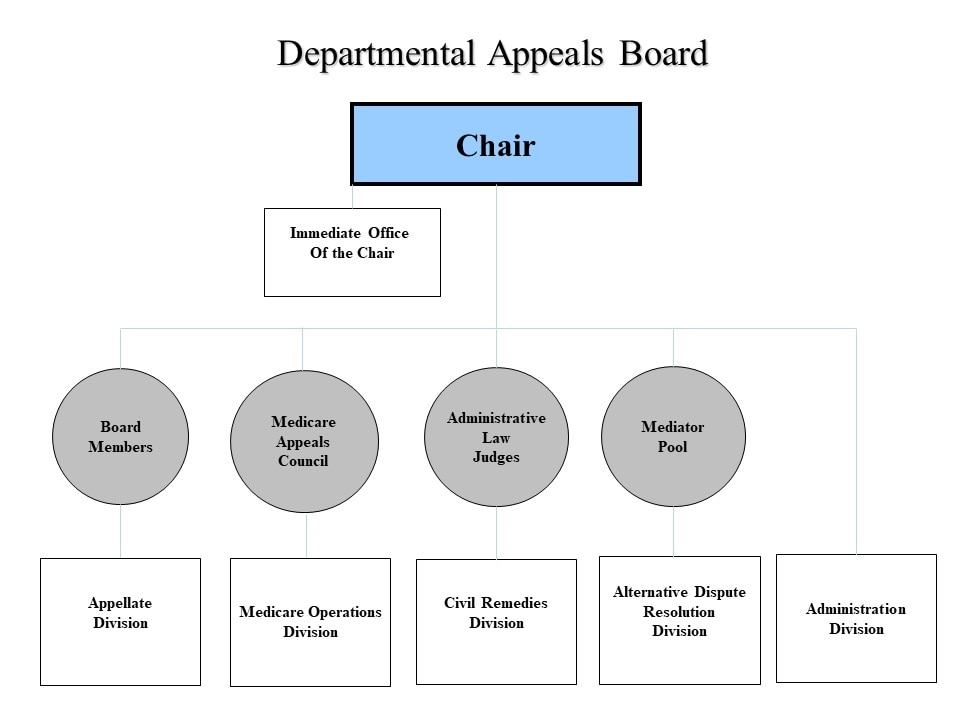 ---
Contact Information
Department of Health and Human Services
Departmental Appeals Board, MS6127
330 Independence Ave., S.W.
Washington, DC  20201
---
Phone: 202-565-0200
Fax: 202-565-0224