HHS Logo, Seal and Symbol Policies
Topics on this page: Logo Use and Colors | Seal Use and Colors | HHS Symbol
For questions or additional information about the HHS logo and seal, please contact SCPHelpDesk@hhs.gov.
---
Logo Use and Colors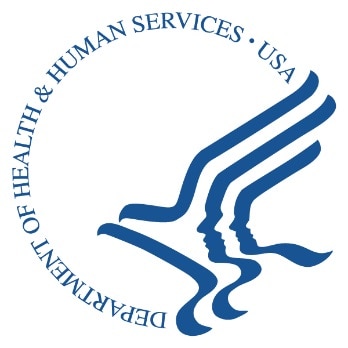 The logo is for official use of the U.S. Department of Health & Human Services. Approved uses are:
Printing purposes (pamphlets, posters, flyers, booklets, periodicals, etc.).
Exhibits and other public affairs-related materials.
On HHS and Operating Division business cards
The logo cannot be used
Size
The logo should never be reduced to a size of less than 5/8 inch in diameter.
Logo Colors
The official colors of the Departmental logo are either Black or HHS Blue.
HHS Blue RGB Numbers:& 24/83/148 (R24, G83, B148)
Single-Color Reproduction

The logo may appear in HHS Blue or in Black. If special circumstances require the use of a different color, only full, deep colors are acceptable. No partial colors or screen tints are allowed.
Sufficient contrast should be maintained between the logo and the field on which it is reproduced. White is the preferred field when surprinting or overprinting the logo.

Two-Color Reproduction

Two- or multi-color reproduction of the logo is not permitted.
---
Seal Use and Colors
Use the HHS seal for:
Department flag
Squeeze or mechanical seals (notary-type seals for true copies)
Podium emblems when the Secretary speaks
Inspector's credentials (FDA, OIG, etc.)
ID cards and building passes
Beneficiary entitlement cards (i.e., Medicare Cards)
Forms
Awards (service pins, cuff links, plaques, etc.)
Citations and certificates
Signs on Regional and field facilities, and HHS office doors
Formal invitations from the Secretary
Parking permits and stickers
The seal cannot be used:
Size
The seal should never be reduced to a size of less than 5/8 inch in diameter.
Seal Colors
The official colors of the Departmental Seal are Reflex Blue and Gold.
Reflex Blue RGB Numbers: 0/0/153 (R0, G0, B153)
Reflex Gold RGB Numbers: 254/252/1 (R254, G252, B1)
Single-Color Reproduction
The seal may appear in Reflex Blue or Black.
Two-Color Reproduction
The seal appears in Gold on a circular field of Reflex Blue.
Background color: White or Off-white
---
HHS Symbol
The symbol is the key element in Department identification. The symbol represents the American People sheltered in the wing of the American Eagle, suggesting the Department's concern and responsibility for the welfare of the people.
This symbol is the visual link which connects the graphic communications of all components and programs of the Department. It is the major design component for the Department Identifiers - the Department Logo, Seal, and Signatures.
The symbol can never be altered and must always be positioned with the eagle facing left.
It should never be reduced to a size of less than 1/4 inch in height.
Content created by Digital Communications Division (DCD)