In the late 1990s, pharmaceutical companies reassured the medical community that patients would not become addicted to opioid pain relievers and healthcare providers began to prescribe them at greater rates.

Increased prescription of opioid medications led to widespread misuse of both prescription and non-prescription opioids before it became clear that these medications could indeed be highly addictive.

In 2017 HHS declared the opioid crisis a public health emergency.

HHS is deeply committed to improving the physical and mental health and well-being of every American as we work to address the evolving crisis. HHS continues to support science- and community-based efforts to combat the opioid crisis.
Opioids by the Numbers
Image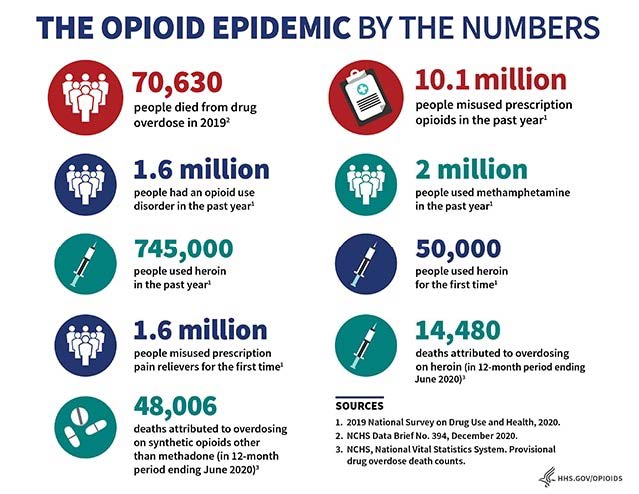 Facts about Drug Overdose
More than 760,000 people have died since 1999 from a drug overdose. Nearly 75% of drug overdose deaths in 2020 involved an opioid.
Explore drug overdose epidemic data from the CDC.
Explore CDC Datasets
CDC's Web-based Injury Statistics Query and Reporting System (WISQARS™) is an interactive, online database that provides fatal and nonfatal injury, violent death, and cost of injury data from a variety of data sources.
CDC's Wide-ranging Online Data for Epidemiologic Research (WONDER) Provides access to a wide array of public health information, including births, deaths, diagnoses, vaccinations, environmental exposures, and population estimates. These data collections are available as online databases, which provide public access to ad hoc queries, summary statistics, maps, charts, and data extracts.
National Recovery Month (September)
Raise awareness and understanding of mental and substance use disorders and celebrate the people who are recovering.