The Hepatitis C Medicaid Affinity Group (Affinity Group) aims to increase the number and percentage of Medicaid beneficiaries diagnosed with hepatitis C virus (HCV) who are successfully treated and cured.
It provides support to states to develop and implement their own initiatives, provide information and technical assistance, and explore strategies related to HCV in specific settings, such as correctional and behavioral health.
Many of the resources, state strategies, and other information is available through the links below.
Participating States
The efforts of the Affinity Group are driven by state teams made up of representatives from state Medicaid agencies, public health departments, correctional agencies, and other programs, such as those that address behavioral health care and substance use disorders.
Nineteen jurisdictions in total participated in the Affinity Group, including Los Angeles County and Washington, DC. Multiple states participated for more than one year, as demonstrated by the asterisks in the below map.
Image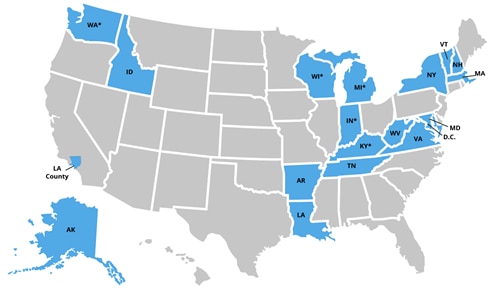 Year 3 State Participants: Arkansas, Idaho, *Indiana, *Kentucky, *Michigan, New Hampshire, *Washington, West Virginia, and *Wisconsin
Previous Year State Participants: Alaska, District of Columbia, Los Angeles County, Louisiana, Maryland, Massachusetts, New York State, Tennessee, Vermont, and Virginia
*Content is undergoing 508 review and will be updated pending remediation. For immediate assistance, please contact: Jessica.Deerin@hhs.gov.