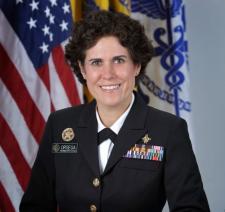 Acting U.S. Surgeon General
As the Acting Surgeon General, Rear Admiral Susan Orsega serves as our Nation's Doctor, working to provide Americans with the best scientific information to improve their health and reduce the risk of illness and injury. She oversees the U.S. Public Health Service (USPHS) Commissioned Corps, comprised of  approximately 6,000 uniformed health officers who serve in nearly 800 locations around the world, promoting, protecting, and advancing the health and safety of our nation, including the activation of the USPHS Commissioned Corps' to support national covid-19 vaccination efforts.
In addition to serving as the Acting Surgeon General, RADM Orsega continues to serve as the Director of Commissioned Corps Headquarters (CCHQ) at the Office of the Surgeon General (OSG), US Department of Health and Human Services (HHS). Appointed in March 2019, she is responsible for directing all functions regarding personnel, operations, readiness, deployment, and policy for the USPHS and development of the Reserve Corps. She is the principal advisor to the Assistant Secretary for Health on activities and policies related to USPHS training, deployment, and total force fitness.
She served as the 11th USPHS Chief Nurse Officer from May 2016 to October 2019 advising the SG on the recruitment, deployment, and career development for nursing and providing leadership to 4,500 USPHS nurses and HHS nurses.
Prior to joining the OSG, she was assigned to the National Institute of Allergy and Infectious Diseases (NIAID) of the National Institutes of Health (NIH). From 2007- 2019, she was responsible for the operational management of 2 NIAID projects with South African and Malian Governments; involving 300 international health care professionals that provided research to over 8,000 research participants in both countries who would otherwise not receive treatment. From 2012-2019, she focused on catalyzing partnerships, building infrastructure and leading operations in Mali during periods of fluctuating security conflict, Malian government transition, Ebola and other emerging infectious disease outbreaks.
In 2015, Orsega was appointed to the NIH/NIAID Ebola trial operations team. Their fervent on the ground leadership ensured that the first human vaccine and treatment Ebola trials in Liberia and Sierra Leone were successfully implemented at a time when the Ebola transmission rates were catastrophic.
RADM Susan Orsega began her career in the USPHS in 1989 at NIH as the HIV/AIDS epidemic was unfolding. She continued to advance her nursing and scientific knowledge in her various assignments with an emphasis on practice, leadership and operations.
She has a distinguished public health emergency experience ranging from selection to an elite USPHS medical team after 9/11 as well as 14 other national and international disaster/humanitarian deployments serving since 1995. She brought that experience to the USS Pacific Peleliu ship mission as the only USPHS officer, Advance Planning team.
Orsega is a subject matter expert in HIV/AIDS nursing practice, international operations, health diplomacy and disaster response, co-authored 22 articles in peer-reviewed journals, and presented at 40 major scientific and nursing conferences around the world.
She is the recipient of the American Nursing Credentialing Center's Princess Muna Al Hussein Award in 2019, HHS Secretary's Award for Distinguished Service in 2016, Uniformed Services University (USU) Graduate of School of Nursing Alumni of the Year award in 2015 and NIH Director's award in 2002.
RADM Orsega earned her Bachelor of Science in Nursing from Towson University and a Master's degree of Science from the USU Graduate School of Nursing Nurse Practitioner program. She is a fellow in the American Association of Nurse Practitioners and American Academy of Nursing.