Vaccines are among the greatest public health achievements of modern times – but they're only as useful as we as a society make them.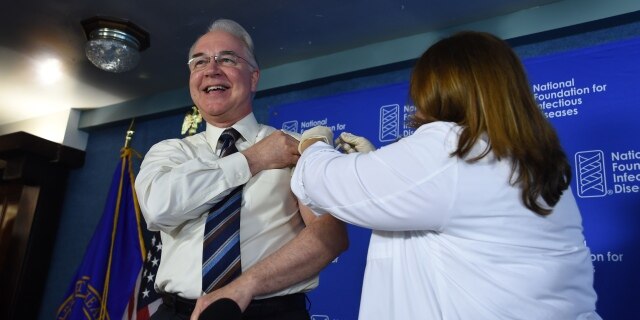 As Prepared for Delivery
Thank you, Dr. [William] Schaffner, for that introduction, and for your work with NFID [National Foundation for Infectious Diseases].  It's always an honor to be introduced by a veteran of the U.S. Public Health Service Commissioned Corps.
And it is an honor, as a physician and as HHS Secretary, to join this event today and to raise awareness about a key public health issue.
Vaccines are among the greatest public health achievements of modern times – but they're only as useful as we as a society make them.
So I'm thankful for the work of CDC and NFID, and our panelists today, in shedding some sunlight on a topic that has a major impact on the health of our nation every year: influenza.
In my remarks this morning, I'd like to:
Briefly remind everyone about the burden flu puts on the American people, our families, and our communities;
Discuss the current situation with regard to flu vaccines;
Explain a bit of the larger context of influenza and the potential for pandemics; and
Most importantly, encourage everyone 6 months and older to receive a flu vaccine.
Let's start with what influenza is.
It can be a lot worse than just a few days away from school or work.
It is a potentially serious respiratory illness that can lead to hospitalization and sometimes death.
This is especially true for certain groups of people: specifically, older adults, pregnant women, people with certain long-term medical conditions, and young children. But even young and healthy adults can suffer severe complications from influenza.
The public health consensus isn't complicated: It's important for everyone 6 months and older to get a flu vaccine every year.
It's remarkably easy: There are thousands upon thousands of places across the country where you can get a shot.
If you go to cdc.gov/flu, we have a "flu finder," where you can plug in the ZIP code of your home or place of work and choose from a plethora of options.
Again, the stakes are serious. Each flu season, flu causes millions of illnesses, hundreds of thousands of hospitalizations, and thousands or sometimes tens of thousands of deaths.
The seriousness of each year's flu does vary significantly. CDC estimates that since 2010, flu-related hospitalizations in the United States have ranged from a low of 140,000 to a high of 710,000 each year. During that same time, CDC estimates that the flu has killed between 12,000 and 56,000 people each year.
But whatever it looks like in a given year, these numbers are far, far too high – especially when we consider that there is a vaccine that could prevent a significant chunk of them.
Unfortunately, CDC's annual look at the number of people who report getting their flu vaccine shows these numbers have plateaued.
We are not seeing any major declines, but there has also been no major progress.
Among all people 6 months and older, flu vaccination coverage during the 2016–2017 flu season was 46.8 percent, leaving more than half of all Americans unprotected from flu.
Coverage by age, coverage among healthcare workers, and coverage among pregnant women were all similar to recent years.
The lack of progress on this issue is all the more disappointing when we consider how considerable the benefits of vaccination are.
Those benefits do vary based on the effectiveness of a given year's vaccine. But even when vaccine effectiveness is on the lower end, the shot still prevents a great deal of suffering and illness.
With vaccine effectiveness of 42 percent last season, CDC estimates that the flu shot prevented about 5.4 million flu cases, 2.7 million doctor's visits, and 86,000 hospitalizations.
If vaccination uptake had been just 5 percentage points higher, the CDC calculates that another 490,000 illnesses and 7,000 hospitalizations could have been prevented.
So we have a lot of room for improvement here.
Flu shots are produced by private-sector manufacturers, so supply does depend in part on demand. Manufacturers project they will provide between 151 and 166 million doses of vaccine for the U.S. market this season in different formulations. Last season, 145.9 million doses were distributed.
This season, flu shots – as opposed to nasal spray vaccines – are recommended. Beyond that, while there are many different vaccine options for consumers, there is no preference for one vaccine over another.
We know that flu vaccines aren't perfect. Vaccine effectiveness ranges from between about 40 percent to 60 percent.
That means that a vaccinated person's risk of getting sick with the flu and needing to see a doctor is 40 percent to 60 percent less than that of someone who does not get vaccinated.
We also know that flu vaccine can prevent serious outcomes like hospitalization.
Obviously, we would like to see even more effective vaccines, and we are working on that.
Through investments in both the public sector, at places like NIH and CDC, and in the private sector, we are making incremental improvements to existing vaccines, such as the use of adjuvants or larger amounts of antigens.
We also are working to develop a so-called "universal vaccine" that would provide long-lasting immunity against many different flu viruses, including bird flu viruses that have the potential to cause a catastrophic influenza pandemic.
I'd also like to briefly mention vaccines that protect against another serious disease: pneumococcal disease. Pneumococcal disease can cause a range of serious illnesses and is a common and deadly complication of influenza.
Each year in the United States, about 520,000 adults 65 years or older get pneumococcal disease and about 18,000 of them die.
There are two types of pneumococcal vaccine recommended for use in adults. CDC recommends pneumococcal vaccination for everyone age 65 years and older and for adults with certain chronic health conditions, such as diabetes, heart disease, and lung disorders, as well for people who smoke.
When adults are getting their yearly flu vaccine, it's a great time to make sure they are up-to-date on their pneumococcal vaccines and any other recommended vaccines: things like pneumonia, shingles, hepatitis, and tetanus.
The recommendations on these vary depending on health status, lifestyle, travel plans, and the like, so talk to your doctor.
Vaccines, including flu and pneumococcal vaccines, are available in a variety of places, so there's no reason not to get protected against serious diseases.
Adults can get vaccines at doctors' offices, pharmacies, workplaces, community health centers, and more.
Understanding the seriousness of the flu is sometimes aided by a little bit of historical perspective.
Next year, 2018, is the 100th anniversary of the Spanish flu. While that was a long time before all of us were born, my grandfather, who graduated from medical school in 1908, was practicing at the time of that deadly pandemic – it's not ancient history.
Spanish flu infected fully one-third of the world population – think about that, one third of the whole world.
Fifty million people died worldwide, including 675,000 Americans. That is almost as many lives as we lost in the entire U.S. Civil War, in just a year.
The catastrophic impact of the 1918 pandemic has left a lasting legacy. We remember that mammoth tragedy, and we prepare for the eventuality that another pandemic will happen.
Influenza's ability to jump from animals to people poses one of the world's greatest infectious disease challenges, and our annual efforts to protect against seasonal flu are the foundation for our response to a pandemic.
At HHS, we take the work of pandemic preparedness extremely seriously. President Trump and this administration are deeply committed to building relationships around the world to reinforce global health security, including with regard to the flu.
The U.S. and other countries have also invested deeply and strategically in national vaccine preparedness, and we've had the chance to see that first-hand at vaccine production and research facilities here and abroad.
HHS and private partners are constantly researching new ways to generate more pandemic vaccines cheaper and faster, and we aim to continue investing in those capabilities.
In closing, let's go back to what we recommend for how each one of us can take charge of our own health, and prepare ourselves for flu season.
Each season, we recommend a 3-step approach to fighting the flu.
The first and best defense is to get a flu vaccine.

Everyone 6 months and older is recommended to get an annual flu vaccination.
To fully benefit from flu vaccination, it's best to get vaccinated before flu activity starts – by October, if possible.
Remember: cdc.gov/flu, check out the flu vaccine finder.
Doctors and other health professionals have a real role to play, too: We should be recommending flu vaccine to all patients 6 months and older.
As a healthcare provider, your recommendation is crucial in motivating your patients to get vaccinated.
It's also important that you get vaccinated to protect yourself and your patients.
The flu viruses that circulate change from season to season, so it's important to get an influenza vaccine every year.
The second step we recommend for fighting flu is to take everyday preventive actions to stop the spread of germs.

Stay home if you are sick, avoid people who are sick, and as always, practice good hygiene such as washing hands and covering coughs and sneezes.
Last, but not least: Take flu antiviral drugs if your doctor prescribes them. We want those who are very sick and those who are at high risk of serious flu complications to get treated quickly. Taking antivirals early if you are sick can prevent more serious outcomes.
But we don't want you to have to get to that point. Make flu vaccination a healthy habit, each and every year.
Thanks so much for your time today, and spread the word.