Announcing the Surgeon General's Community Toolkit for Addressing Health Misinformation!
Learn how you can help stop health misinformation in your community.
During the COVID-19 pandemic, people have been exposed to an abundance of information from a large number of sources. Amid all this information, many people have also been exposed to health misinformation: information that is false, inaccurate, or misleading according to the best available evidence at the time. Misinformation has caused confusion and led people to decline COVID-19 vaccines, reject public health measures such as masking and physical distancing, and use unproven treatments.
Although health misinformation is not a recent phenomenon, in recent years it has spread at unprecedented speed and scale, especially online. But, together, we have the power to build a healthier information environment where we make more informed decisions about our health and the health of our loved ones and communities.
Confronting Health Misinformation: The Surgeon General's Advisory on Building a Healthy Information Environment
Preventing and addressing health misinformation is a major priority for the Surgeon General. In a new Surgeon General's Advisory, available below, the Surgeon General is warning the American public about the urgent threat of health misinformation and calling for a whole-of-society approach to address health misinformation during the COVID-19 pandemic and beyond.
A Community Toolkit for Addressing Health Misinformation
The Surgeon General's Community Toolkit for Addressing Health Misinformation provides specific guidance and resources for health care providers, educators, librarians, faith leaders, and trusted community members to understand, identify, and stop the spread of health misinformation in their communities.
Developed in collaboration with the Office of Evaluation Sciences (OES).
Image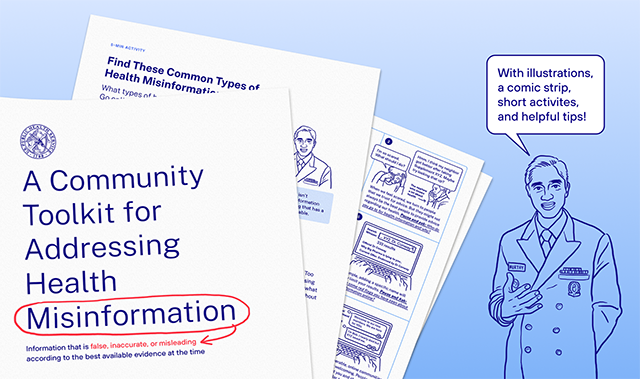 Community Toolkit
A 22-page overview of health misinformation and resources to stop it.
Teaching Slides
A slideshow version of the Community Toolkit for educators and other community leaders.
"Talk to Your Community About Health Misinformation" Infographic
"Health Misinformation Checklist" Infographic