OGA Leadership
Garrett Grigsby
Director, Office of Global Affairs (OGA)
Garrett Grigsby has served as Director of the Office of Global Affairs since May 2017. Garrett served on the staff of the U.S. Senate Committee on Foreign Relations (SFRC) throughout the 1990s. As SFRC Deputy Staff Director he was responsible for oversight of all U.S. Government foreign assistance programs, including global health initiatives.
Garrett joined the U.S. Agency for International Development (USAID) in 2002 as Deputy Assistant Administrator for the Bureau for Democracy, Conflict, and Humanitarian Assistance where he oversaw global disaster relief and humanitarian programs. In 2005, he was appointed Director of USAID's Center of Faith-Based and Community Initiatives. From 2006-2014, Garrett consulted for U.S. non-profits helping to expand their global health work and strengthen relationships with the federal government. From 2014 until joining HHS Garrett served as Executive Director of Christian Connections for International Health, an association of non-profits focused on promoting global health and wholeness.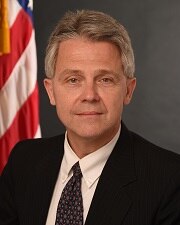 Thomas Bryant Alexander, J.D.
Principal Deputy Director, Office of Global Affairs (OGA)
Thomas Bryant Alexander has served as the Principal Deputy Director of Global Affairs in the Office of the Secretary at the US Department of Health and Human Services since February 2017.
On the Presidential Transition, he served as an assistant on the nominations of Thomas Price, MD, to be Secretary of HHS, and Seema Verma, MPH, to be Administrator of CMS. Prior to this he was Legislative Director and LA for Health Policy for US Senator Jon Kyl (R-AZ), and Chief of Staff of EBSA at the US Department of Labor. He served as Consular Assistant at the US Embassy in Kiev, Ukraine and received the Benjamin Franklin Award from Ambassador John Tefft. He served in the Reagan White House and was Honorably Discharged from Platoon Leader's Class at Marine Corps Base Quantico. He graduated Summa Cum Laude from Cardinal Newman College; and from the University of Missouri-Kansas City School of Law where he served on the Honor Court. In law school, he was selected for a clerkship in the Criminal Division of the Missouri Attorney General, and to an academic clerkship in chambers of Judge Pasco M. Bowman, 8th US Circuit Court of Appeals. He served as Assistant City Attorney for Kansas City, Missouri, and received the Volunteer Attorney Project Award. He was admitted to the bars of the Supreme Court of Missouri and the Court of Appeals of Washington, DC.
Content created by Office of Global Affairs (OGA)