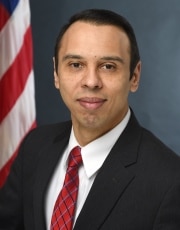 Roger Severino
Director, Office for Civil Rights (OCR)
Roger Severino is the Director of the Office for Civil Rights at the U.S. Department of Health and Human Services.  Prior to joining the Department, Mr. Severino served as Director of the DeVos Center for Religion and Civil Society in the Institute for Family, Community, and Opportunity at The Heritage Foundation.
Before joining Heritage in 2015, Mr. Severino was a trial attorney for seven years in the Department of Justice's Civil Rights Division where he enforced the Fair Housing Act, the Religious Land Use and Institutionalized Persons Act, and Title II and Title VI of the Civil Rights Act of 1964.
He has litigated cases under sex, race, national origin, religion, disability, and familial status discrimination and served as the Housing and Civil Enforcement Section's E-discovery officer as well as attorney advisor to the fair housing testing program.
Mr. Severino was previously chief operations officer and legal counsel for the Becket Fund for Religious Liberty.
Mr. Severino holds a J.D. from Harvard Law School, received a master's degree in public policy, with highest distinction, from Carnegie Mellon University, and has a bachelor's degree in business from the University of Southern California, where he was a National Merit Scholar.
---
OCR Mission & Vision
Mission
As an HHS law enforcement agency, OCR investigates complaints, conducts compliance reviews, vindicates rights, develops policy, promulgates regulations, provides technical assistance, and educates the public concerning our nation's civil rights, conscience and religious freedom, and health information privacy and security laws. OCR accomplishes this by:
Ensuring that recipients of HHS federal financial assistance comply with federal civil rights laws that prohibit discrimination on the basis of race, color, national origin, disability, age, sex and religion.
Ensuring that HHS, state and local governments, health care providers, health plans, and others comply with federal laws that guarantee the protection of conscience and free exercise of religion and prohibit coercion and religious discrimination in HHS-conducted or funded programs.
Ensuring the practices of health care providers, health plans, healthcare clearinghouses, and their business associates adhere to federal privacy, security, and breach notification regulations under the Health Insurance Portability and Accountability Act (HIPAA) and the Health Information Technology for Economic and Clinical Health (HITECH) Act, through the investigation of complaints, self-reported breaches, compliance reviews, and audits.
Vision
OCR enforces civil rights laws and conscience and religious freedom laws, and protects the privacy, security, and availability of individuals' health information. Through these mechanisms, OCR helps to ensure equal access to health and human services, protects the exercise of religious beliefs and moral convictions by individuals and institutions participating in HHS programs, advances the health and well-being of all Americans, protect individuals' health information, and provides the tools for provider
awareness and full engagement of individuals in decisions related to their health care.