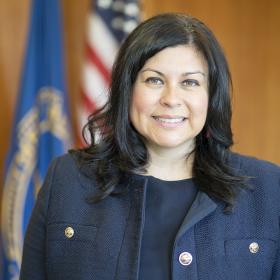 Director for Office for Civil Rights (OCR)
Department of Health and Human Services
Melanie Fontes Rainer serves as the Director of the Office for Civil Rights at the U.S. Department of Health & Human Services where she leads the Department's enforcement of federal civil rights and privacy laws and directs related policy and strategic initiatives. Previously, Melanie served as Counselor to Health & Human Services (HHS) Secretary Xavier Becerra, providing strategy guidance to the Secretary on issues pertaining to civil rights, patient privacy, reproductive health, the Affordable Care Act (ACA), competition in healthcare, equity, and the private insurance market.  In this role, she led the implementation of the bipartisan No Surprises Act, helping to increase transparency in medical billing and save consumers money. She also served as the Secretary's designee on the White House Competition Council leading cross-cutting Department work and a whole-of-Government approach on price transparency, costs, and competition to benefit American consumers.
Before joining the Biden-Harris Administration, Melanie served as the Special Assistant to the Attorney General and Chief Health Care Advisor at the California Department of Justice, where she led a national team to save the Affordable Care Act and protect healthcare coverage for over 133 million Americans.  During this time, she facilitated the creation of a new office, the Health Care Rights and Access, devoted to proactively advancing laws pertaining to health care civil rights, privacy, competition, and consumer protection.  Melanie
also worked on multiple groundbreaking settlements, such as the $575 million historic settlement against one of the largest health systems in California to increase competition and consumer choice in the state and multiple bipartisan settlements to address the national opioid epidemic.
Melanie previously served in the U.S. Senate as a Senior Aide and Women's Policy Director to Chair Patty Murray on the Health, Education, Labor and Pensions and the Budget Committees.  In these roles, she helped pass several transformative health care laws, including the 21st Century Cures Act, Every Student Succeeds Act, and the Justice for Victims of Trafficking Act, among other laws and led the Senate's work on the Affordable Care Act, reproductive rights, and gender equity.
Melanie has a J.D. from the University of Arizona, M.S.M.E. from the City University of New York, Brooklyn College, and a B.S.B.A. from the University of Arizona