Summary of FY2014 Performance and Financial Information
Introduction
This document presents performance and financial information on the Department's eleven Operating Divisions and sixteen Staff Divisions. The next sections highlight progress made toward achieving each of the four HHS Strategic Goals. This document ends with a discussion on some of the financial information and management challenges HHS faces.
Supporting the achievement of the Strategic Goals, HHS is currently engaged in five Agency Priority Goals (APGs) for FY 2014-FY 2015, as described below. Each required collaboration and contributions from multiple Departmental Divisions which were reported through regular data-driven reviews.  These reviews were guided by progress toward program milestones and other relevant indicators on the APGs throughout FY 2014 and brought together stakeholders from across the Department as well as high-level Department leadership.  These Agency Priority Goals are:
Reduce the national rate of healthcare-associated infections by demonstrating a 10 percent reduction in national hospital-acquired catheter-associated urinary tract infections
Increase the number of eligible providers who receive incentive payments from the Centers for Medicare & Medicaid Services (CMS) Medicare and Medicaid Electronic Health Records (EHR) Incentive Programs for the successful adoption or demonstration of meaningful use of certified EHR technology to 450,000
Improve the quality of early childhood programs for low-income children through implementation of the Quality Rating and Improvement Systems in the Child Care and Development Fund, and through implementation of the Classroom Assessment Scoring System (CLASS: Pre-K) in Head Start
Reduce the annual adult combustible tobacco consumption in the United States from 1,342 cigarette equivalents per capita to 1,174 cigarette equivalents per capita, which will represent an approximate 12 percent decrease from the 2012 baseline
Decrease the rate of Salmonella Enteritidis illness in the population from 2.6 cases per 100,000 to 1.9 cases per 100,000
HHS made significant progress on all APGs in 2014 and specific accomplishments are highlighted throughout this document. The Department achieved this progress in large part due to a focus on data-driven review implementation of comprehensive action plans for each initiative. HHS also continues to engage with individuals across the federal performance management community to implement best practice and refine our processes.  The most recent data and completed accomplishments as well as future actions on the FY 2014- FY 2015 APGs can also be found on Performance.gov. The site provides information on what measures and milestones HHS uses to track progress toward these goals.
In addition to the HHS Strategic Goals and the Agency Priority Goals, HHS reported data on 135 key performance measures in the FY 2016 HHS Annual Performance Plan and Report. These measures represent important issue areas being addressed by the health care and human services communities. While HHS does not yet have FY 2014 data available for all measures due to the lag associated with data collection and reporting, HHS either met its target or improved relative to last year's result for 82 percent of measures for the FY 2014 results reported to date. This is comparable to the reported data in the FY 2013 Summary of Performance and Financial Information, in which HHS either met or improved performance toward their targets for 82 percent of measures.
These measures present a powerful tool in improving HHS operations and help to advance an effective, efficient and productive government. HHS regularly collects and analyzes performance data to inform decisions. HHS' Operating and Staff Divisions constantly strive to find lower-cost ways to achieve positive impacts, in addition to sustaining and fostering the replication of effective and efficient government programs.
Below are two charts that show the proportion of financial resources that are primarily dedicated to achieving each Strategic Goal in the FY 2014- FY 2018 Strategic Plan. These goals are:
Strengthen Health Care
Advance Scientific Knowledge and Innovation
Advance the Health, Safety, and Well-Being of the American People
Ensure Efficiency, Transparency, Accountability, and Effectiveness of HHS Programs
HHS invested resources towards fulfilling the mission of the Department including the provisions of the Affordable Care Act. The chart on the left provides the breakdown of the HHS budget by strategic goal. Although HHS funding here is broken down into strategic goals, many of the programs in HHS are crosscutting in nature and support a number of strategic goals. In the chart on the left the majority of the Department's funding is primarily associated with Goal 1 because of the large amount of money invested in delivering quality care and services through Medicare, Medicaid, and the Children's Health Insurance Program (CHIP). Of the four strategic goals, 89 percent is spent on Goal 1, 3 percent on Goal 2, 6 percent on Goal 3, and 1 percent on Goal 4. The chart on the right demonstrates the HHS budget after subtracting the costs of Medicare, Medicaid, and CHIP. Of the four strategic goals excluding Medicare, Medicaid, and CHIP, 19 percent is spent on Goal 1, 22 percent on Goal 2, 48 percent on Goal 3, and 10 percent on Goal 4.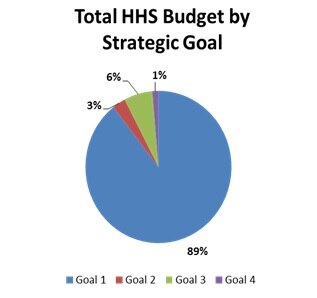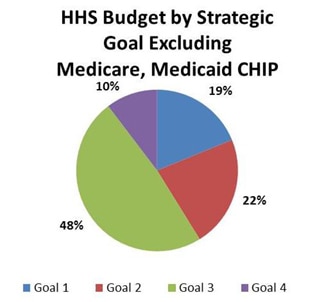 The following sections provide more information on each Strategic Goal and highlights accomplishments across the Department in FY 2014 with success stories from our Operating and Staff Divisions, in addition to the collaborative accomplishments achieved through the Agency Priority Goals.
Topics in this report
Content created by Office of Budget (OB)