Image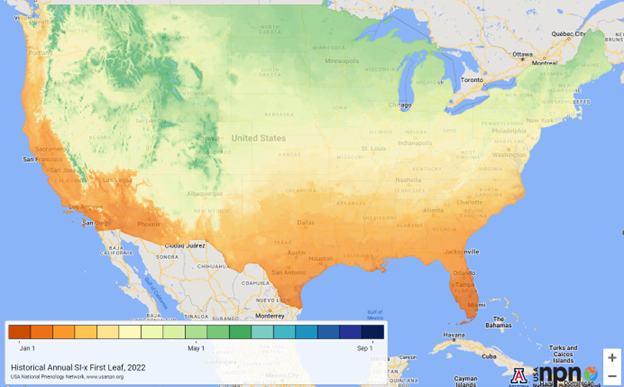 Figure: This map from the USA National Phenology Network (USA-NPN) shows when springtime activity in plants typically began over the last 30 years. The start of spring occurs on the date when enough heat has accumulated to initiate growth (leafing and flowering) in temperature-sensitive plants. On average, the start of spring has occurred earlier in the contiguous United States since 1984. The United States Global Change Research Program uses data from the USA-NPN Network as an indicator for start of the spring season.
Climate change may lead to both higher pollen concentrations and earlier and longer pollen seasons, causing more people with asthma and allergies to suffer adverse health effects. One study found that nationwide, total pollen amounts increased up to 21% between 1990 and 2018, with the greatest increases recorded in Texas and the Midwest.
The American Academy of Allergy, Asthma & Immunology National Allergy Bureau certifies pollen monitoring stations and has a network that spans different parts of the country. However, those stations are sparsely distributed (especially in rural areas) and pollen monitoring is not always done consistently throughout the year, so there may or may not be active monitoring near you.
Image
Figure: This map from the American Academy of Allergy, Asthma & Immunology's National Allergy Bureau shows where the pollen monitoring stations are located across the country.
Start of Spring Across the United States as of July 2, 2023
Image
Figure: This map depicts where springtime biological activity began earlier than average (red tones) and later than average (blue tones) this year. We can expect an earlier start to the pollen season in regions experiencing an earlier than normal start to spring. For more information, visit the USA-NPN Status of Spring page.
The start of spring arrived between two and four weeks early across the southern states, mid-Atlantic region, and Northeast. Springtime also arrived a week earlier than normal in northern Michigan and Wisconsin. The start of the season was one to two weeks late in the Great Plains states and up to four weeks late in the Intermountain West. Springtime pollen release is heavily shaped by winter and spring temperatures. Plants must be exposed to sufficient warmth to emerge from dormancy, open their flowers, and release pollen. On average, plants release pollen about two weeks after showing signs of springtime activity.
The start of spring appeared the earliest in 40 years in parts of Texas, Arkansas, Ohio, Kentucky, Maryland, New Jersey, and New York.
Notes from the Field: Dr. Stanley Fineman
Dr. Stanley Fineman from Atlanta Allergy and Asthma has been practicing allergy medicine for over 40 years and has seen firsthand the impacts of a warming climate on patients allergic to pollen. The pollen season has been starting earlier and lasting longer, leading to higher pollen counts and more intense allergy symptoms that last for longer periods of time.
Dr. Fineman reflected on how these changes to the pollen season have impacted his work:
"I had suggested that patients begin using their allergy medication, such as topical nasal corticosteroids, beginning St. Patrick's Day (March 17th), prior to the peak pollen season. Now I recommend that patients start their medications on Valentine's Day (February 14th)."
In addition to taking allergy medications earlier in the season, Dr. Fineman recommends that patients follow local pollen counts. Those who experience pollen allergies should limit their outdoor activities when pollen counts are high in their area.
Pollen Affects Health in Many Ways 
Pollen is an airborne allergen that can affect our health. Pollen exposure can trigger various allergic reactions, including:
Sneezing, runny nose, and congestion.
Red, watery, or itchy eyes.
Asthma or other respiratory illness exacerbation.
These symptoms have been linked to negative impacts on sleep, daily activities, productivity, concentration, and quality of life. Allergic asthma and seasonal allergies affect approximately 40% of the U.S. population.
Image