Climate and Health Outlook: Extreme Heat | June 2022
This edition focuses on the months of June-August, 2022 and uses the most current long-term temperature forecasts that come from the National Oceanic and Atmospheric Administration (NOAA) to illustrate how extreme heat poses a health risk for all Americans.
Heat Affects Health in Many Ways
Warmer temperatures increase the risk for a diverse range of health risks. For example:
An increased risk of hospitalization for heart disease.
Heat exhaustion, which can lead to heat stroke if not treated, can cause critical illness, brain injury,
and even death.
Worsening asthma and chronic obstructive pulmonary disease (COPD) as heat increases the production of ground-level ozone.
Dehydration, which can lead to kidney injury and blood pressure problems. Some kidney damage can become irreversible with repeated or untreated injury.
Violence, crime, and suicide may increase with temperature, adding to the rates of depression and anxiety already associated with climate change
Some medications increase the risk of heat-related illness. These include diuretic medicines (sometimes called "water pills"), antihistamine medicines (including many allergy medicines), and many antipsychotic medicines used to treat a variety of psychiatric and neurologic illnesses. Please review this list of common psychiatric medications that can impair the body's normal ability to cool itself.
Spotlight on Health Equity: Health Impacts in Rural Areas
Image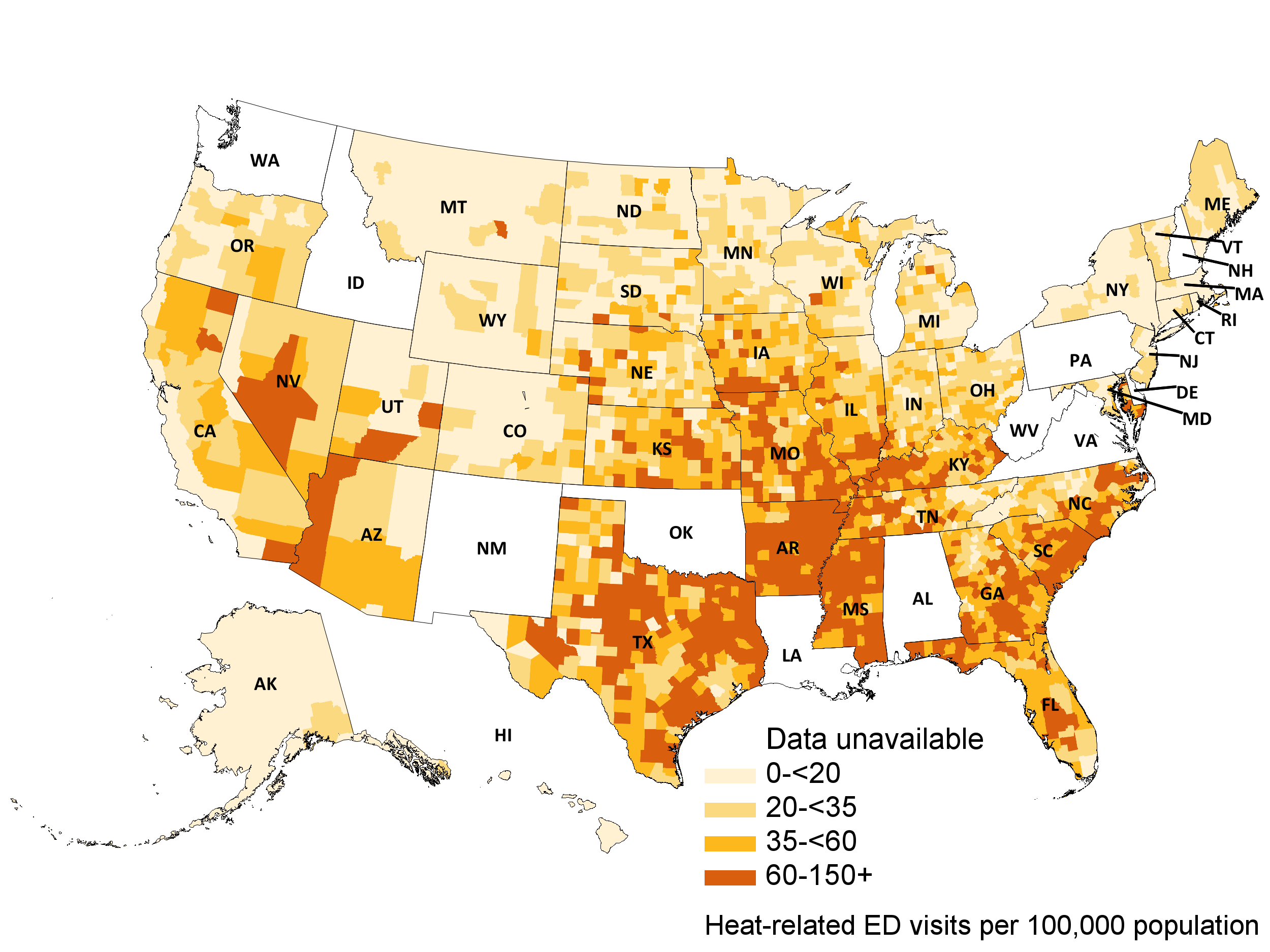 In April 2022, Agency for Healthcare Research and Quality used the Healthcare Cost and Utilization Project (HCUP) 2016–2019 to estimate county-level population rates of emergency department (ED) visits with a diagnosis directly indicating heat exposure. The analysis was limited to records of ED visits, regardless of hospital admission, at community hospitals, excluding rehabilitation and long-term acute care facilities, with any-listed diagnosis directly indicating heat exposure. This analysis includes ED data from 2,550 counties in 39 States and the District of Columbia, representing 85 percent of the population and 81 percent of all counties in the United States in 2019. Among the 1,122 rural counties, 152 (13.5%) had heat-related ED visit population rates of 85 or more per 100,000 population (i.e., 90th percentile of population rates). In contrast, among the 344 large metropolitan counties, 8 (2.3%) had heat-related ED visit population rates in the 90th percentile. The report highlights that a larger proportion of rural than large metropolitan counties experience a high rate of heat-related illness, although there are more heat-related ED visits in large metropolitan areas (n=135,585 ED visits) than in rural areas (n=30,115 ED visits).
Resources for People at High Risk of Heat-Related Health Problems
Certain populations with limited resources may have restricted access to information on heat illness prevention, cool indoor environments, and government programs that provide critical support. Find more resources on heat illness prevention from the National Integrated Heat Health Information System (NIHHIS) and CDC websites.
---
Climate and Health Outlook: Extreme Heat | May 2022
As our climate changes, extreme heat events will become more frequent, longer lasting, and more severe. Using temperature projections from NOAA and other partners, this outlook draws attention to the parts of the country and populations at higher health risk from extreme heat exposure. It also provides actionable information and resources from the Department of Health and Human Services for individuals, healthcare professionals, and public health officials to take proactive action that can reduce risk.
Download the Climate and Health Outlook for May 2022*
* This content is in the process of Section 508 review. If you need immediate assistance accessing this content, please submit a request to OCCHE@HHS.gov. Content will be updated pending the outcome of the Section 508 review.