Image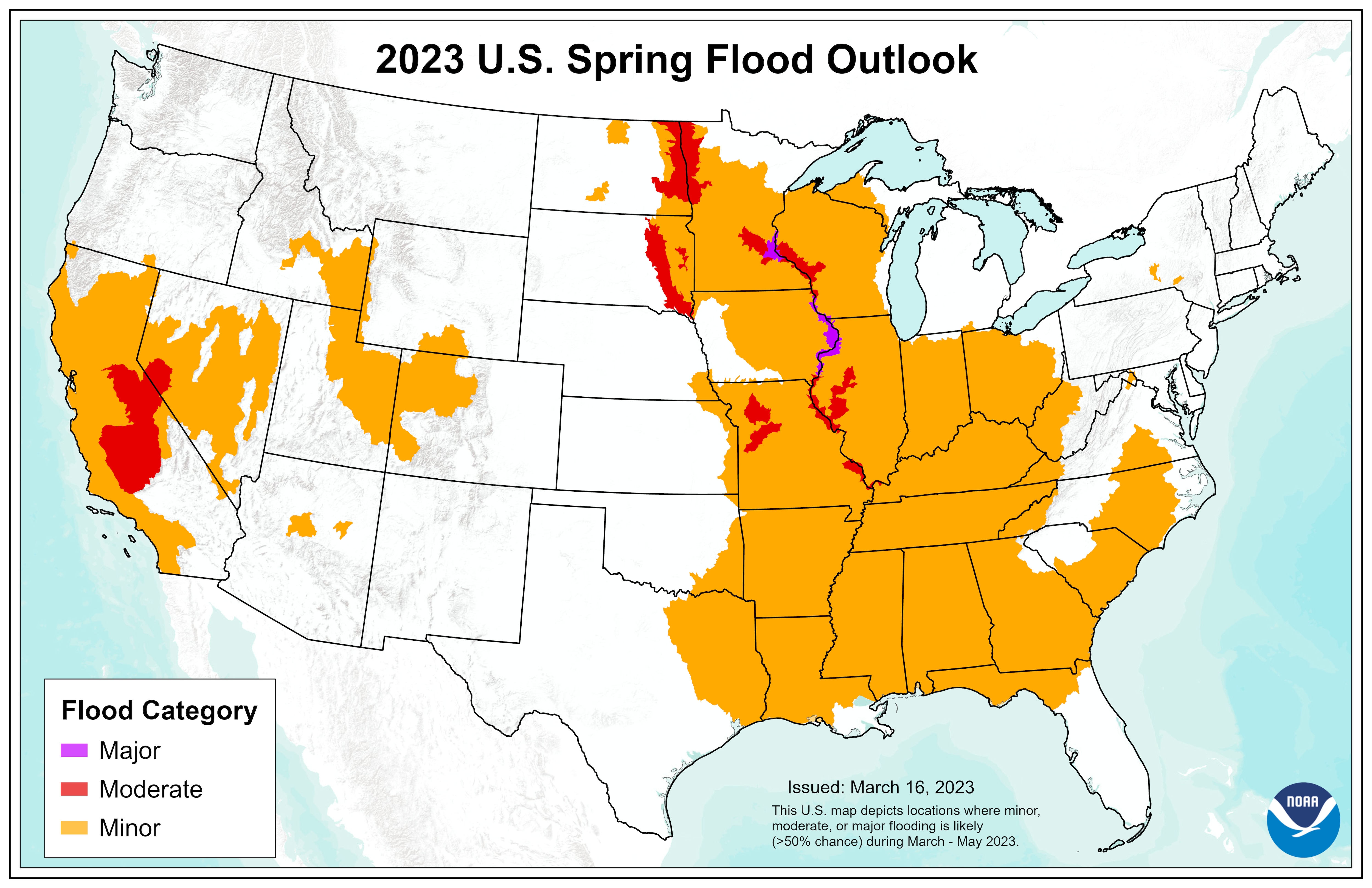 Figure: This map was developed by the National Weather Service - Office of Water Prediction and is reflective of forecast conditions on March 16, 2023. The map focuses on spring flood potential, using evaluation methods analyzed on the timescale of weeks to months, not days or hours. Heavy rainfall at any time can lead to flooding, even in areas where overall risk is considered low. For detailed hydrologic conditions and forecasts, go to water.weather.gov.
This spring season, approximately 146 million people are at risk for flooding in their communities, with nearly 6.4 million at risk for moderate flooding and 1.4 million at risk for major flooding.
An active winter with above normal snowpack has led to the potential for major flooding along portions of the Upper Mississippi River. Moderate flooding is expected along the Red River of the North in North Dakota and the James River in South Dakota. Recent heavy rains in the west, combined with near record snowpacks, have led to recent widespread flooding throughout California, including ongoing minor to moderate river flooding. Additional snow in late March and early April continued to build in portions of the West and Upper Midwest. Above normal snowpacks in the Sierra Nevada, Great Basin, and portions of the Central Rockies, and Upper Midwest will lead to the continued potential for moderate flooding. Major flooding is ongoing in the Upper Missouri and Mississippi Rivers.
In Alaska, spring ice breakup and snowmelt flood potential is forecasted to be normal for the majority of the state with some exceptions. The flood potential is expected to be above normal for the Upper Yukon, Upper Tanana, and portions of the Copper River basins.
As indicated in the map at the top of the page, 142 counties across 11 states are projected to have above normal moderate to major flooding risk this spring. Of these counties:
42 (30%) have a high number of people aged 65 or over, living alone.
5 (4%) have a high number of people without health insurance.
18 (13%) have a high number of uninsured children.
11 (8%) have a high number of adults with coronary heart disease.
37 (26%) have a high number of people living in rural areas.
12 (8%) have a high number of Black or African American persons.
12 (8%) have a high number of people with frequent mental distress.
13 (9%) have a high number of people living in poverty.
44 (31%) have a high number of people spending a large proportion of their income on home energy.
20 (14%) have a high number of people with severe housing cost burden.
24 (17%) have a high number of people with electricity-dependent medical equipment and enrolled in the HHS emPOWER program.
11 (8%) have a high number of people with one or more disabilities.
13 (9%) are identified as highly vulnerable by CDC's Social Vulnerability Index.
*"A high number" indicates that these counties are in the top quartile for this indicator compared to other counties.
Climate Change and Spring Flooding
Climate change can impact the size and frequency of river and stream flooding events. Large floods have become more frequent across the Northeast, Pacific Northwest, and northern Great Plains. Flood frequency has decreased in some other parts of the country, especially the Southwest and the Rockies. Warmer temperatures can cause more water to evaporate from the land and oceans, changing the size and frequency of heavy precipitation (for example, rain and snow). In addition to precipitation, changes in river and stream size, the timing of snowmelt, and the amount of snowpack that accumulates in the winter can also affect flood patterns.
Floods Affect Health in Many Ways
Floods increase the risk for a diverse range of health outcomes. For example:
Floodwaters pose drowning risks for everyone, including those driving in floodwaters.
Objects in floodwaters can cause injuries like broken bones, cuts, and electrocution.
Exposure to floodwater contaminated with chemicals, sewage, animal waste, and other pathogens can cause burns, rashes, skin and eye infections, and gastrointestinal and respiratory illnesses.
Post-flooding mold can present risks for people with asthma and allergies.
Power failure during floods can harm patients who critically depend on electricity-dependent medical equipment, both at home and at health care facilities.
Using generators improperly can cause carbon monoxide (CO) exposure, which can lead to loss of consciousness and death. Over 400 people die each year from accidental CO poisoning.
Resources to Reduce Health Risks Associated with Floods
Health risks from floods include drowning, injuries, or infection from floodwaters; carbon monoxide poisoning after power outages caused by floods; post-flooding exposure to mold; mosquito-borne and waterborne illnesses; and psychological distress.
Image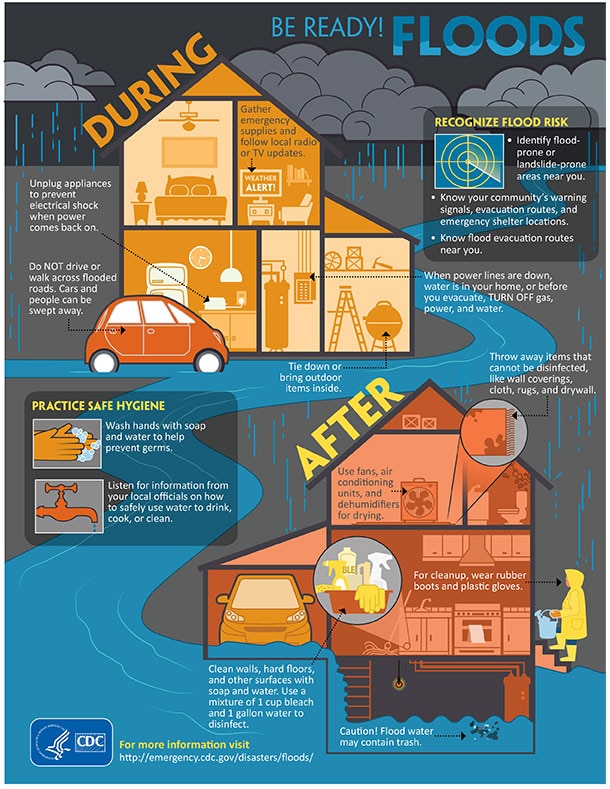 Image source: https://www.cdc.gov/orr/infographics/br-floods.htm  
Image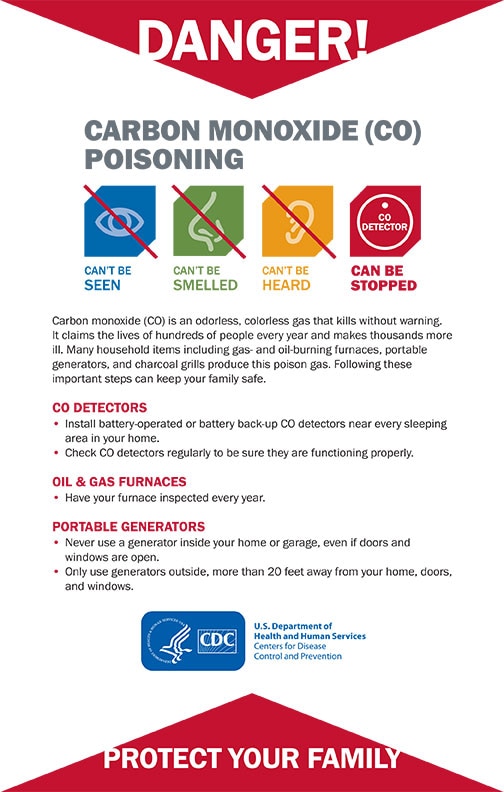 Image source: https://www.cdc.gov/co/pdfs/Flyer_Danger.pdf
If you do not have health insurance and are in a federally-identified disaster, the Emergency Prescription Assistance Program can help you get the prescription drugs, vaccinations, medical supplies, and equipment you need.
If you have Medicare and your medical device is damaged or lost due to an emergency or disaster, Medicare may cover the cost to repair or replace your equipment or supplies.
After natural disasters such as floods, hurricanes, and tornadoes, excess moisture and standing water contribute to the growth of mold in homes and other buildings. The CDC's Mold After a Disaster includes information about who is at greatest risk from mold, the health effects of mold, and preventing mold growth. The Environmental Protection Agency's Flooded Homes and Cleanup Guidance site provides information on how to stay safe while cleaning up your home after a flood.
Image
Image source: https://www.cdc.gov/disasters/mold/index.html
It's normal for floods and other extreme weather events to cause people to experience emotional distress. Feelings such as overwhelming anxiety, constant worrying, trouble sleeping, and other depression-like symptoms are common responses to flooding events. The Substance Abuse and Mental Health Services Administration Helpline and Text Service is available 24/7, free, and staffed by trained crisis counselors. Call or text 1-800-985-5990 to get help and support for any distress that you or someone you care about may be feeling related to any disaster.
Learn more about floods and mental health at SAMHSA's Floods site. SAMHSA also has other disaster behavioral health resources, including newsletters and tip sheets. The Office of the Assistant Secretary for Preparedness and Response Technical Resources, Assistance Center, and Information Exchange's (ASPR TRACIE's) Disaster Behavioral Health Resources includes information about services for at-risk populations following a disaster.
Check out SAMHSA's Climate Change and Health Equity site for more information on the behavioral health impacts of climate change, preparing for a disaster, and resources for disaster planning and climate change education.
OCCHE's Referral Guide summarizes resources that can address patients' social determinants of health and mitigate health harms related to climate change. These resources include social services and assistance programs to which patients can be referred, as well as references for anticipatory guidance and counseling to help patients prepare for potential hazards.