Image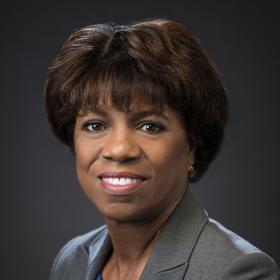 Sharunda D. Buchanan, M.S., Ph.D.
Interim Director, Office of Environmental Justice (OEJ)
Dr. Sharunda Buchanan has been named as Interim Director of the Department of Health and Human Services' (HHS) Office of Environmental Justice (OEJ) within the Office of Climate Change and Health Equity (OCCHE) in the Office of the Assistant Secretary for Health (OASH).  Having served as Senior Advisor of HHS' Environmental Justice Unit (EJU) over the past few months, she brings a wealth of experience to the Department.  Dr. Buchanan will: 1) lead initiatives that integrate environmental justice into the HHS mission to improve health in communities across the nation; 2) advise senior leadership at OASH and HHS on environmental justice and health issues; 3) provide leadership and subject matter expertise to develop and implement an HHS-wide strategy on environmental justice and health; and 4) represent OASH and HHS at agency and interagency settings.
Prior to joining the OASH team, Dr. Buchanan provided leadership and oversight of  CDC's National Center for Environmental Health/Agency for Toxic Substances and Disease Registry's (NCEH/ATSDR) work in environmental justice, health equity innovation, and various other large-scale, priority environmental health initiatives.  During her 32-year tenure at CDC/ATSDR, she held several leadership positions:
Director of the Office of Priority Projects, Innovation and Environmental Justice (2018 - present)
Director of the Division of Emergency and Environmental Health Services (2007 - 2017)
Chief of the Environmental Health Services Branch (2001 – 2007)
Chief of the Lead Poisoning Surveillance and Epidemiology Section (1995 – 2001)
Epidemic Intelligence Officer assigned to CDC's Division of Environmental Hazards and Health Effects  (1993 – 1995)
Environmental Health Scientist in ATSDR's Division of Toxicology (1990 – 1993)
Dr. Buchanan received B.S. and M.S. degrees in Chemistry from Texas Southern University, and a Ph.D. degree in Biochemistry from Clark Atlanta University. 
Dr. Buchanan is committed to pursuing environmental justice for underserved and overburdened communities.  She maintains a passion for developing future leaders and assuring that the next generation is ready to act as they gain an understanding of and appreciation for what it means to advance health equity, pursue environmental justice, and improve environmental public health across the country.