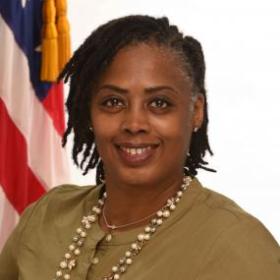 Associate Deputy Assistant Secretary for Human Capital
Department of Health and Human Services
Kimberly A. Steide, DPA, serves as the Associate Deputy Assistant Secretary (ADAS) for Human Resources and "Acting" Executive Director for Human Capital at the Department of Health and Human Services.
Appointed in July 2022, Dr. Steide is skilled in overseeing analytical units with specialized skillsets and utilizing insights to improve program operations, develop strategies, and drive results for the American people.
Dr. Steide joins HHS after spending 10 years with the Department of Treasury (USDT) in various roles. Most recently, she served as the Office of Strategy, Evaluation, and Analysis Director within the Office of the Chief Human Capital Officer. In this role, she oversaw the Human Capital Strategic, Workforce, and Succession Planning Programs, and the Independent Audit Program, Employee Engagement, and Data Analytics for USDT's 100K+ employees.
During her tenure with USDT, Dr. Steide implemented an integrated planning and monitoring approach that the Office of Personnel Management identified as a leading practice. Additionally, she was responsible for providing the organization's eight bureaus and four offices of the Inspector General with workforce insights through a dashboard utilizing Power Business Intelligence.
Before joining USDT, Dr. Steide worked for the Department of Housing and Urban Development and the Department of Homeland Security in roles that included workforce analysis and program evaluation.   
Dr. Steide spent eight years in the private sector as a recruitment manager focusing on technical and manufacturing professionals. She is also a veteran of the U.S. Army, where she served for eight years with tours in the District of Columbia, Seoul, South Korea, and Chicago, Illinois. Dr. Steide has received awards for her superior leadership and notable results. Most recently, for her leadership as project manager, Dr. Steide received a Secretary's Award for successful standup of the Office of the Special Inspector General for Pandemic Recovery.
Dr. Steide holds a Doctor of Public Administration from Capella University and a Master of Science in Managerial Leadership from National Louis University.