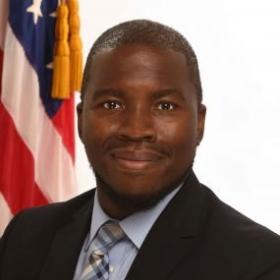 Deputy Chief Human Capital Officer, Associate Deputy Assistant Secretary for Human Resources, and Executive Director for Staffing, Recruitment and Operations Center
Department of Health and Human Services
Jeffery Anoka serves as the Deputy Chief Human Capital Officer (DCHCO), Associate Deputy Assistant Secretary (ADAS) for Human Resources, and Executive Director for Staffing, Recruitment, and Operations Center (SROC) at the U.S. Department of Health and Human Services.
Appointed in July 2022, Mr. Anoka is a strategic people manager with strong talent management, recruitment, team building and operations management skills.
Before coming to HHS, Mr. Anoka served as the USAID Deputy Chief Human Capital Officer (DCHCO) where he provided advice and guidance to its leadership, including USAID bureaus and independent offices, on a full range of human resources (HR) functional areas. His primary focus areas included human capital strategy, external outreach, staff acquisition, executive HR operation, employee and labor relations, employee development and retention programs, workforce planning, and staff care services.
During his tenure at USAID, Mr. Anoka served as the Human Capital Services Center Director, where he led HR operational support in six divisions: Classification, Civil Service Staffing, Employee Services and Benefits, Tier 1 Services, Human Capital Services, and Bureau Funded Services. He also oversaw a range of human capital services initiatives, including a congressionally mandated hiring surge, the USAID reorganization, and the establishment of policies and programs that expanded the Office of Human Capital and Talent Management's HR transformation.
Mr. Anoka began his Federal career with the Federal Transit Administration where he coordinated a range of human capital initiatives, including recruitment for hard-to-fill positions and regional talent management.
Prior to joining USAID, Mr. Anoka held positions at several government agencies, including Workforce Diversity Program Manager at the U.S. Securities and Exchange Commission; Director of Corporate Recruitment and Outreach at the U.S. Department of Energy; Global Head of Talent Acquisition at the Institute of International Education; Deputy Human Resources Officer at the Administrative Office of the U.S. Courts. He also served at the Federal Deposit Insurance Corporation, the Export-Import Bank of the United States, the U.S. Consumer Financial Protection Bureau, and the Department of Homeland Security.
Mr. Anoka holds a Bachelor of Science in Human Resources Management from Georgia State University and a Master of Business Administration from the University of Maryland Global Campus.