Summary of FY2014 Performance and Financial Information
Goal Two:  Advance Scientific Knowledge and Innovation
President's Malaria Initiative in Malawi
In FY 2014, CDC completed a 22-month study of the effectiveness of insecticide-treated bednets (ITNs) to prevent malaria in an area of Malawi with intense insecticide resistance. The study, partially funded by the President's Malaria Initiative showed parasite prevalence declined from 34 percent to 17 percent one year after ITNs were distributed to all households in the study area. The incidence of malaria infection was 70 percent lower among those who used ITNs compared to those who had not.
HHS is expanding its scientific understanding of how best to advance health care, public health, human services, biomedical research, and to ensure the availability of safe medical and food products. Chief among these efforts is the identification, implementation, and rigorous evaluation of new approaches in science, health care, public health, and human services that encourage efficiency, effectiveness, sustainability, and sharing or translating that knowledge into better products and services.
Goal Two includes four objectives:
Accelerate the process of scientific discovery to improve health
Foster and apply innovative solutions to health, public health, and human services challenges
Advance the regulatory sciences to enhance food safety, improve medical product development, and support tobacco regulations
Increase our understanding of what works in public health and human service practice
Improve laboratory, surveillance, and epidemiology capacity
AHRQ's National Guidelines Clearinghouse™ (NGC) is the primary source for health care professionals to find evidence-based clinical practice guidelines.  In 2014, NGC tightened evidence criteria for the guidelines it includes, and built on efforts to raise awareness of evidence-based guidelines in collaboration with more than 200 professional organizations that develop these guidelines. As of the end of 2014, the NGC included more than 2700 guidelines. More than 90,000 users subscribe to AHRQ's weekly email service and the Clearinghouse website receives approximately 400,000 visits each month.
CDC's first-ever data-release on the use of e-cigarettes among youth garnered more than 1 billion media impressions. CDC staff examined poison control calls related to e-cigarettes for the first time, finding calls jumped from 0.3 percent in September, 2010 to 41.7 percent in February, 2014, more than half of which were for children under age five. Summary of this analysis was featured in "Notes from the Field" garnering over 200 million media impressions worth over $1.7 million dollars in publicity value.
In FY 2014, National Institutes of Health (NIH)-supported researchers demonstrated that exposure to young blood reactivated genes in older research animals' brains that encouraged neurons to make new connections, which are key to forming memories and learning new skills.  In related research, another group of NIH-supported scientists demonstrated that exposure to young blood or injections of a protein called growth differentiation factor 11 (GDF11) could boost the number of neural stem cells and improve sense of smell in older research animals. Taken together, these findings raise the possibility of protecting or even restoring cognitive powers that tend to decline as people grow older.  More information can be found "Can Something in Young Blood Give a Boost to Old Brains?".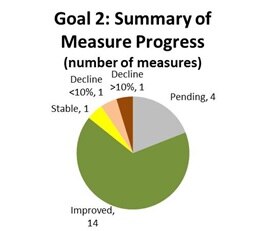 The Substance Abuse and Mental Health Agency (SAMHSA) launched two mobile apps in FY 2014 to provide information resources and tools regarding two key behavioral health issues – disaster response and bullying prevention.  In February 2014, SAMHSA launched the Behavioral Health Disaster Response mobile app to support first responders in times of natural or man-made disasters.  This app enables first responders to access and share behavioral health resources, with those most in need, during and after deployment.  In August of 2014, SAMHSA also launched the KnowBullying app.  This app helps parents and caregivers engage in meaningful conversations with their children about bullying.  The KnowBullying app includes strategies for different age groups to prevent bullying.  Parents and caregivers also learn about warning signs and to recognize if their child is engaging in bullying, being bullied, or witnessing bullying.  The apps are tagged to allow SAMHSA to see screens/pages visitors view, clicks on outbound links, device type and other traditional web metrics.  Within seven months of launch, the Disaster mobile app has been downloaded over 8,250 times.  Within two months of launch, the KnowBullying app has been downloaded over 10,000 times.
For this goal, 88 percent of measures with available data showed stable or improved performance.
Topics in this report
Content created by Office of Budget (OB)