Every day, donors help people who urgently need blood for things like injuries, surgeries, or blood disorders. Even giving blood just once can help save more than one life. Learn how you can be someone's hero by donating. #GivingEqualsLiving #GiveBlood

Donating blood typically takes less than an hour, but it can change someone's life forever. People need blood for surgeries, cancer treatments, serious injuries, childbirth, and more. Learn how you can become a blood donor today! #GivingEqualsLiving #GiveBlood

After beating childhood cancer, Von wrote thank you cards to blood donors because he knew they helped him get the treatments he needed to ride his bike, play the trumpet, and be a kid again. When you give, others live. #GivingEqualsLiving #GiveBlood

Heather has received dozens of life-saving blood transfusions to treat her sick cell disease. Sometimes she has had to wait days to find a match. Become a donor today. #GivingEqualsLiving #GiveBlood #SickleCell  
GIFs
The animated GIFs and stickers can be found in the GIPHY app or on social media platforms that use GIPHYs. Search for keywords such as "blood" or "giveblood," or download them below.
Facebook Frames
Follow the steps below to add a Giving = Living campaign Facebook Frame to your profile photo. 
Log into your Facebook account
Head to facebook.com/profilepicframes
Select a frame from the menu or enter a keyword into the search box to find a frame that you'd like to use. Keywords for the campaign include "give blood" and "I gave blood."
Once you identify the frame you'd like to use, click the "Use as Profile Picture" button to save.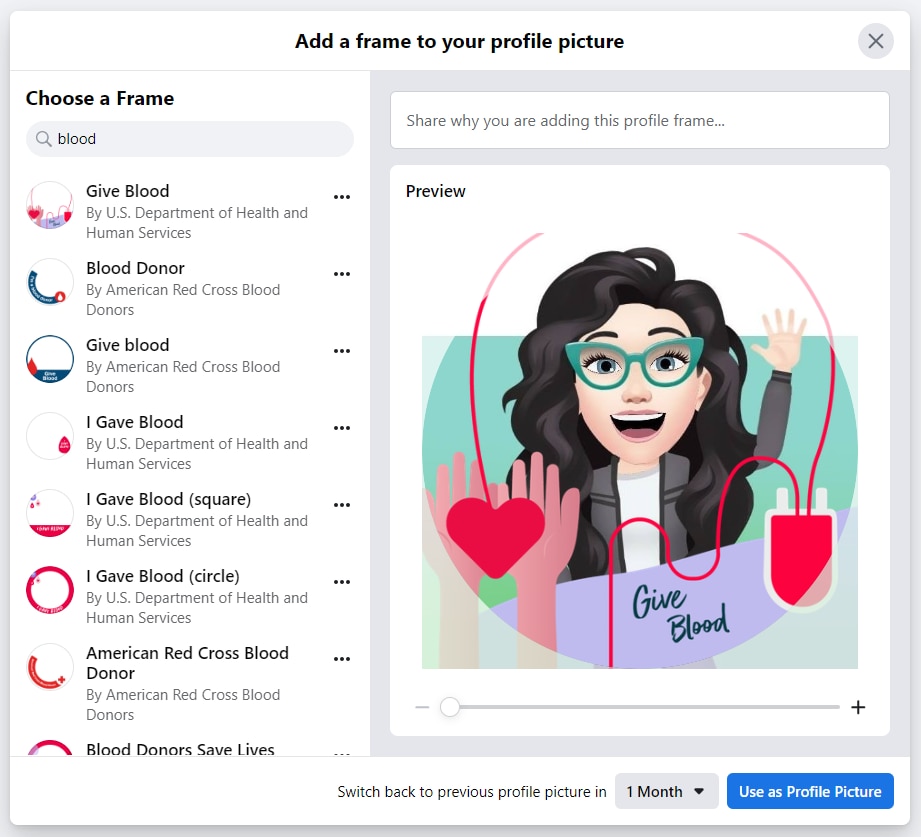 Find using keywords: "Give blood"

Find using keywords: "Blood Donors"