Co-Location: Kenosha County's Strategy to Move Parents to Work
Summary:
Children First SHARP is an evidence-based model for serving noncustodial parents, standing on the shoulders of its predecessors.
Fourth installment of the "Self-Sufficiency Series: Solutions from the Field"
Consistent with President Trump's Executive Order on Reducing Poverty in America by Promoting Opportunity and Economic Mobility, HHS's Strategic Plan sets goals for HHS to encourage self-sufficiency and personal responsibility, eliminate barriers to economic opportunity, and to prepare children and youth for healthy, productive lives. This blog is part of the Self-Sufficiency Series: Solutions from the Field, which profiles local programs from across the country finding solutions to accomplish these goals.
For over 20 years, Kenosha County, Wisconsin, has experimented with how to deliver human services programming that puts people first, an effort true to the spirit of both President Trump's Executive Order on economic mobility reforms and HHS' Strategic Plan.  It is one example of communities across the country recognizing the importance of co-location of services for families.  This is especially evident in its approach to serving noncustodial parents who may be struggling to support their children.  Beginning with Children First in 1994, and followed by Supporting Parents Supporting Kids (SPSK) in 2012, the county has continued to build on lessons learned to develop the most effective model for families to achieve self-sufficiency.  SPSK was funded by a 5-year demonstration grant from the HHS. Today, Children First SHARP (Supporting Parents, Holistic Case Management, Access to Employment, Reaching Goals, Positive Parenting) is an evidence-based model for serving noncustodial parents, standing on the shoulders of its predecessors.
Children First SHARP is a collaborative, one-stop approach between the Kenosha County Child Support Agency, Goodwill Industries, and a number of other community partners.  Noncustodial parents who are struggling to pay their child support are identified and enrolled in the program by court order.  Through intensive, trauma-informed case management, staff work with participants to develop a plan to move the parent to self-sufficiency. Services include job search, resume building, work supports, and participation in a weekly Children First Job Club that facilitates networking and peer support.  Noncustodial parents may also participate in the Fatherhood program, known as Dedicated Dads, a 13-session, evidenced-based program founded on the Nurturing Fathers curriculum.
Kenosha is committed to continuous improvement and has developed a services tracking system to measure noncustodial parents' employment and child support payment outcomes.  Early analysis of SPSK done by the program shows that noncustodial parents who received enhanced case management are about 2.4 times more likely to find employment than those who didn't receive that service.  An experimental evaluation of the program, funded by the federal Office of Child Support Enforcement, is currently underway with impact results expected in 2019. In the words of one father, "The SPSK program empowered me and pushed me towards positivity in my outlook of the future."
With the majority of services housed under one roof, Kenosha County is committed to putting people first and never losing sight of the goal that all families achieve self-sufficiency.  This is just one example of how many communities across the country are demonstrating how to achieve the goals of both HHS and the President's Executive Order.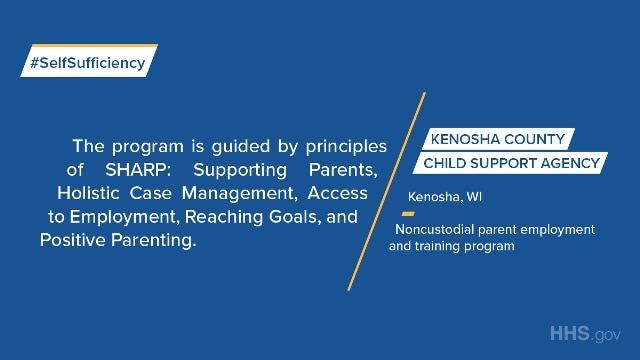 Content last reviewed on July 26, 2018