Being African-American and Surviving Cancer: Helping to Find Answers
Summary:
I hope my participation in a pilot study will help scientists better understand how African-Americans like me develop cancer.
I've always been fairly healthy, but in September 2015 when I felt a pain in my shoulder I went to the doctor to get it checked out. The doctor sent me to physical therapy. When that didn't help, I tried medication. That didn't work either. When I felt shooting pain and a burning sensation across my chest, my colleagues stepped in to help.
Fortunately, I was working as a patient care associate in pre-op at Detroit Medical Center and I had great co-workers who worried that I might be suffering a heart attack. My team leader got me checked out right away at the emergency room.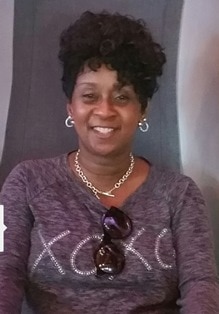 It wasn't a heart attack and the pains subsided, but I knew something was wrong. I know my body. My primary care doctor ordered a CT-scan, an MRI and a biopsy. It turned out, that even though I wasn't a smoker, I had a rare lung cancer.
I underwent radiation and chemo five times a week for six weeks, as well as other treatment at Karmanos Cancer Institute at Wayne State University in Detroit. The regimen halted the growth of the cancer and I feel great now, although I still face more treatment in the future.
In the midst of my own care, I participated in a pilot study that looked into why African-Americans get most types of cancers, like my lung cancer, at higher rates than other racial and ethnic populations and experience poorer survival rates. I was asked about my family medical history, diet, physical activity, quality of life, tobacco use, any financial burden as a result of my diagnosis and other questions.
The pilot showed that a larger scale study could be feasible and our answers are being used to refine the survey for such a study at Karmanos and Wayne State that recently received a five-year, $9 million grant last week from the National Cancer Institute. The project will be the nation's largest scientific study of African-American cancer survivors, comprised of 5,560 survivors and 2,780 family members from the three counties surrounding Detroit. Besides the survey, the researchers will be taking tissue samples of the participants' cancers for genetic studies.
I'm honored to be a part of the study. I personally don't see race as a factor in developing cancer, but going into it, I felt that if the study could help improve health care and outcomes for others, I wanted to participate.
For me, the lung cancer diagnosis was a total shock. I never coughed. I was constantly active. I just had a pain in my shoulder, and then I was diagnosed.
What I would tell people is to pay attention to yourself. Don't just accept what you're told. Other people don't know what you're feeling. And don't put off seeing the doctor if you don't feel right. Getting the right preventive care can help you identify hidden health issues you need to address.
Keep your faith, and make sure you take care of yourself. I hope my participation in the study will help scientists better understand how African-Americans like me develop cancer, and use that information to better treat it.
For more information about the study, go to https://www.nih.gov/news-events/news-releases/nci-launches-study-african-american-cancer-survivors.
Catherine is beating #cancer. She hopes her experience helps scientists improve #healthcare for future patients. https://go.usa.gov/xXCds