2020 Hepatitis C Medicaid Affinity Group In-Person Convening: Summary and Highlights
By:
Corinna Dan, RN, MPH
, Viral Hepatitis Policy Advisor, Office of Infectious Disease and HIV/AIDS Policy, U.S. Department of Health and Human Services
Summary:
Medicaid Affinity Group participants networked, shared expertise, and developed state-specific action plans at the third annual in-person convening.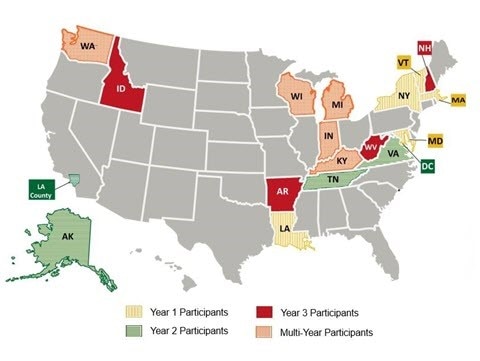 In January 2020, the Office of Infectious Disease and HIV/AIDS Policy convened more than 50 representatives from state and federal agencies and partner organizations to identify effective strategies to improve hepatitis C outcomes among Medicaid enrollees. The third annual Hepatitis C Medicaid Affinity Group in-person meeting gave participants opportunities to share expertise on screening and treating individuals with hepatitis C virus (HCV); network with other states and subject matter experts; and develop state-specific action plans for the year-long quality improvement project. Attendees included:
Representatives from state Medicaid programs, public health departments, and corrections agencies from Alaska, Arkansas, Idaho, Indiana, Kentucky, Los Angeles County, Michigan, New Hampshire, Virginia, Washington, Washington, D.C., West Virginia, and Wisconsin;
HHS partners, including the Centers for Medicare & Medicaid Services (CMS), the Centers for Disease Control and Prevention (CDC), the Health Resources & Services Administration (HRSA), and the Substance Abuse and Mental Health Services Administration (SAMHSA); and
Subject matter experts and partner organizations, including the Federal Bureau of Prisons, the Harm Reduction Coalition, the National HCV Warmline, the Hepatitis Education Project, the AIDS Institute, the University of Washington Medical Center, and NASTAD.
Participants shared HCV initiatives related to four major areas:
State Feedback
"Extremely relevant and actionable."
"Great to hear innovative projects in other states and ways to leverage Medicaid data to reduce HCV treatment barriers."
"Many, many great ideas for interventions we would want to develop in our state!"
Removing Structural Barriers. States presented on how their efforts to improve HCV treatment access, such as lifting Medicaid restrictions on direct-acting antiviral (DAA) prescriptions and streamlining prior authorization processes, have impacted DAA utilization.
Making Treatment Affordable. Washington and Alaska described new models to treat more individuals with HCV at lower cost, Washington through its modified subscription payment model and the Alaska Department of Corrections (DOC) through the 340B Drug Pricing Program in partnership with the state's Sexually Transmitted Diseases (STD) Prevention Program.
Building Provider Capacity. States reported that provider stigma and limited capacity remain major treatment barriers. To help address these issues, Dr. Joshua Liao from the University of Washington explained how behavioral economics principles can help change physician behavior and prescribing practices, and Dr. Carolyn Chu from the University of California, San Francisco described the National HCV Warmline, a national teleconsultation service that provides clinician-to-clinician support for HCV case evaluation and management. States also discussed their efforts to build provider capacity through Project ECHO and in-person and online trainings.
Targeting At-Risk Populations. The convening included a focus on corrections and behavioral health because of high HCV rates among individuals with substance use disorder and in correctional settings. Kentucky and New Hampshire presented on their partnerships with syringe services programs and Indiana, LA County, and Virginia presented on innovative models to screen and treat people who are incarcerated.
Participants also collaborated with state and federal partners to develop state-specific action plans. These action plans enable staff to develop a tailored approach to leverage opportunities and guide state team efforts during the project. Many reported that they planned to apply the lessons learned at the meeting to their HCV efforts.
Related pages and posts:
Posted In:
Prevention and Wellness
Public Health and Safety