Asking What Clients Need: Opportunities for Hepatitis C Services at Syringe Services Programs
By:
Thaddeus Pham
, Viral Hepatitis Prevention Coordinator, Hawaii Department of Health
Summary:
A unique program collaboration integrates wound care and hepatitis C services into syringe services program sites in Hawaii.
When we consider viral hepatitis in Hawaii, we look beyond the medical implications towards how marginalized communities are, or are not, able to get their needs met. This includes the impact of hepatitis C (HCV) on people who inject drugs (PWID).
At least 60% of PWID who access syringe services programs (SSPs) in Hawaii are infected with HCV. Although most SSP participants are insured, very few have been to healthcare providers to address HCV, let alone get treated for it. For many, HCV is not a priority because they are dealing with immediate concerns like homelessness, mental health diagnoses, and legal troubles. To effectively reduce the burden of HCV on this community, we must concurrently address the issues that PWID are most concerned about.
In a 2015 survey, participants of the CHOW Project—Hawaii's statewide SSP and harm reduction organization—reported their primary health concern as wound care. Among 100 CHOW participants who were surveyed, 86 reported visiting the emergency department (ED) in the two years prior. Almost half of these participants reported abscesses or infections as the reason for their ED visit, and many had chronic wounds that required hospitalizations. At least 96% stated that they would use wound care services at the SSP if available, especially since they often received poor quality care in the ED due to stigma and discrimination against PWID.
We realized that providing wound care at the SSPs would be an effective way to engage clients likely to have HCV. In 2015, we coordinated the development of a street-based wound care program in collaboration with a variety of stakeholders including CHOW, Hep Free Hawaii, Queens Medical Center, University of Hawaii School of Nursing and Dental Hygiene, the John A. Burns School of Medicine, and the Institute of Human Services. In 2017, we formally integrated HCV education, testing, and care coordination into the wound care workflow:
Clinicians ask wound care clients about their HCV status as part of the initial assessment;
If the client does not know their status, outreach workers offer point-of-care HCV antibody testing and on-site confirmatory HCV RNA testing;
An on-site Hepatitis Care Coordinator immediately meets with antibody-positive clients to ensure linkage to care and related referrals;
The Lead Nurse connects clients to primary care, women's health, and/or housing services that may be needed.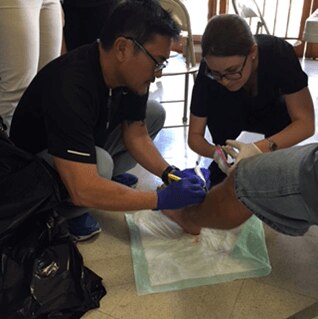 Since the program started, more than 400 visits to over 150 unique clients have been provided. Due to the low-threshold, high-quality care that they receive, clients are more likely to stay engaged with the program. In the first 3 months of the integrated pilot, 5 out of 9 (55%) wound care clients tested positive for HCV antibody, and 1 client received RNA confirmatory testing. Although these are small numbers, they indicate that there is a need and that we are moving in the right direction. Since the inception of this project, we have expanded and improved wound care and HCV health outcomes, reduced ED utilization, and built trust between marginalized PWID and the healthcare community.
As the overlapping epidemics of HCV, opioid addiction, overdose, and injection-related infections continue to ravage the United States, we hope that our efforts will generate other ways to engage PWID around viral hepatitis, thereby achieving the goals in the National Viral Hepatitis Action Plan. An important step in this direction is to ask the community what it needs first.