U.S. Department of Veterans Affairs Shares Successful New Strategies for Curing Hepatitis C Infection
By:
Corinna Dan
, RN, MPH, Viral Hepatitis Policy Advisor, Office of HIV/AIDS and Infectious Disease Policy, U.S. Department of Health and Human Services
Summary:
The Department of Veterans Affairs reported major progress on Hepatitis C using new strategies to ensure that veterans are screened, linked to care, and cured.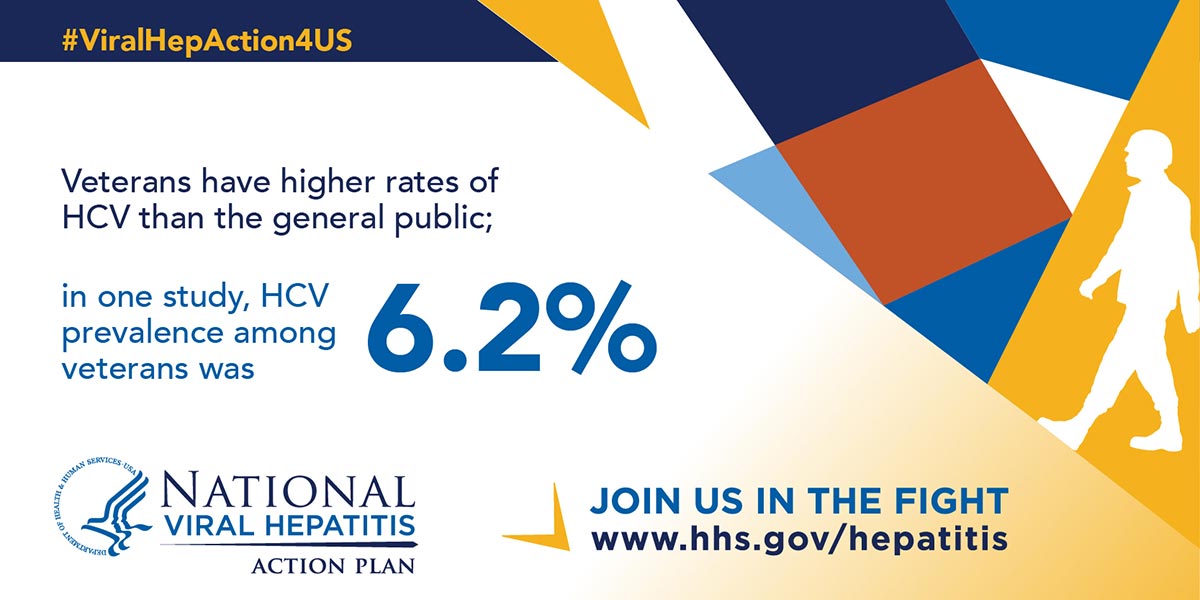 Every year in November, we celebrate and remember Americans who have served our country in uniform- our veterans. We recognize the importance of providing high quality health care for those who have served and one example of this is hepatitis C (HCV). The estimated chronic HCV infection rate for veterans who are in care is 4%, about three times that of the general U.S. population. The Department of Veterans Affairs (VA) recently published an article in the Annals of Internal Medicine reporting major progress using new strategies for ensuring that veterans are screened, linked to care and treated for HCV. Since January 2014, the VA has treated more than 92,000 veterans with HCV infection, with cure rates exceeding 90%.
To reach this milestone, the VA implemented key actions for identifying and treating as many veterans with chronic HCV infection as possible. Overarching support for HCV treatment expansion included dedicated funding for HCV treatment, the establishment of Hepatitis C Innovative Teams to tailor efforts to address regional strengths and needs, and the use of national databases and analytics. Specific strategies for increasing testing and improving access to care include:
Electronic point-of-care clinician reminders to conduct HCV risk assessment and testing
Automated letters to veterans recommending HCV testing which can be used as lab orders at VA laboratories 
Expanded use of telemedicine
Expanding HCV care beyond specialty providers to include primary care and other types of providers
Integrating mental health and substance use disorder treatment with HCV care
Creative strategies for financing HCV care
The VA points out that many of the strategies could be used in non-VA medical settings. Read the full story. (Full content of The Annals is available to subscribers.)
The National Viral Hepatitis Action Plan (Action Plan) has identified veterans as a priority population for national efforts to address the epidemic of HCV. The Action Plan is a strategic framework that highlights the commitment of more than 20 federal partners working together to fight viral hepatitis in partnership with states, counties, cities and hundreds of organizations around the country. To learn more, download the plan and see how to get involved.
.@DeptVetAffairs new report on best practices treating more than 92,000 veterans w/ #HepC - Read more: https://go.usa.gov/xnj4G
Posted In:
Public Health and Safety
Research