CDC Vital Signs: Opioid Prescribing Is High and Varies by County
By:
Corinna Dan
, R.N., M.P.H., Viral Hepatitis Policy Advisor, Office of HIV/AIDS and Infectious Disease Policy, U.S. Department of Health and Human Services
Summary:
The July 2017 CDC Vital Signs focuses on opioid prescribing patterns, which remain high and vary greatly by county.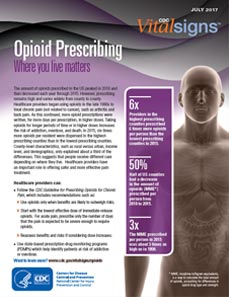 Last month, the U.S. Centers for Disease Control (CDC) released a Vital Signs report – Opioid Prescribing: Where You Live Matters, describing trends in opioid prescribing across the country. While the number of opioids prescribed decreased annually between 2010 and 2015, the number remains high, and dramatic differences are seen from county to county.
The nation is in the midst of an opioid epidemic that has resulted in increasing rates of injection drug use (often in people who initially misused oral prescription opioids), overdose, and hepatitis C. Opioid use disorder, injection drug use, and injection-related diseases are intertwined, and are hurting the same communities and the same individuals.  Hepatitis B and HIV can be transmitted through injection drug use and some states and communities have also seen increases in transmission of these infections. Advancing prevention efforts aimed at reducing the risk of infection is one important strategy to reverse the trend of rising rates of infectious diseases. However, a comprehensive strategy that addresses multiple components of the opioid crisis is needed – including promoting safer opioid-prescribing practices across the country.
The CDC report found that:
The total amount of opioids prescribed per person in 2015 was three times the amount prescribed in 1999.
Since the late 1990s, providers have written more prescriptions, for longer durations, and at higher doses, all of which can contribute to misuse and addiction.
In 2015, providers in counties with the highest-prescribing counties wrote six times as many opioid prescriptions than in the lowest-prescribing counties. This difference is only partially explained by county-level factors and suggests that dramatic differences in care exist in different areas of the country.
"The amount of opioids prescribed in the U.S. is still too high, with too many opioid prescriptions for too many days at too high a dosage," said Anne Schuchat, M.D., former acting director of the Centers for Disease Control and Prevention. "Healthcare providers have an important role in offering safer and more effective pain management while reducing risks of opioid addiction and overdose."
The CDC Guideline for Prescribing Opioids for Chronic Pain contains recommendations for prescribing opioids, and focuses on management strategies for patients with chronic pain. These patients are at an increased risk for misuse and addiction due to long-term opioid use. The Vital Signs also highlights several solutions for providers to consider when prescribing for pain, summarized below and available in this infographic:
Providers should use opioids only when the benefits outweigh the risks. Alternatives to opioids (acetaminophen, ibuprofen, and naproxen), physical therapy and exercise, and/or cognitive behavioral therapy may be effective to control pain.
If opioids are prescribed, providers should limit the number of doses so that patients receive only what is needed to manage acute pain – three days is often sufficient, and dosing for longer than 7 days is rarely needed.
When starting opioid treatment, providers should use the lowest effective dose possible of an immediate-release opioid. The risks and benefits of continuing therapy should then be reassessed before prescribing additional opioids.
In addition to health care providers, the federal government, states, health insurers, and patients all have roles to play in decreasing the number of opioid prescriptions and reducing the risk of misuse and addiction. Changing how opioids are prescribed can help us turn the tide on the opioid epidemic and reduce the risk of misuse, addiction, and injection drug use across the country.
To learn more, read the Vital Signs full report, download the factsheet, and watch the one-minute video.
3x increase in opioids prescribed 1999-2015, 3x increase in #HepC 2010-2015. Learn how we can reverse the trends https://go.usa.gov/xRvvd