Women in High Places Leading the Global Challenge of Hepatitis and Liver Cancer Control
By:
Corinna Dan
, RN, MPH, Viral Hepatitis Policy Advisor, Office of HIV/AIDS and Infectious Disease Policy, U.S. Department of Health and Human Services
Summary:
In early September, 40 women leaders convened to discuss their unique roles in addressing the global challenges of hepatitis B, hepatitis C, and liver cancer.
In September, I had the privilege of joining close to 40 women leaders in the field of viral hepatitis who convened in New York City to discuss our roles in leading the charge on the global challenges of hepatitis B, hepatitis C, and liver cancer control. Hepatitis B and C are the most common blood borne infectious diseases as well as leading causes of liver cancer in the United States and globally. Around the world, an estimated 360 million and 150 million people are chronically infected with hepatitis B and hepatitis C, respectively. In response to these high numbers, the World Health Organization has established a global health sector strategy for viral hepatitis setting targets for improvement.
The meeting, Women in High Places, Leading the Challenge of Hepatitis and Liver Cancer Control brought together women who are experienced and active in the fields of viral hepatitis and liver cancer to identify meaningful actions that could be undertaken to further contribute to and amplify our collective response to these global health concerns. Organized by the Caring Ambassadors Program, participants came from around the world including Egypt, Nigeria, Ecuador, Senegal, Italy, Ghana, and the United States.
Basic presentations from the World Health Organization, World Hepatitis Alliance, and the U.S. Department of Health and Human Services provided background information about global and U.S. domestic activities. The meeting discussions focused on identifying areas where women leaders could be most effective in further expanding efforts to address viral hepatitis.
The assembled women leaders identified three areas of focus:
Emphasizing viral hepatitis as it relates to women's health,
Engaging women as agents of change within their organizations and communities, and
Fostering women as leaders in the field of viral hepatitis.
Women play a role in the prevention of viral hepatitis because hepatitis B and C can be transmitted perinatally– from a chronically infected woman to her infant, usually at the time of birth. Additionally, women are often responsible for the care of other family members so their continued good health of women living with chronic viral hepatitis is often important for the health of the whole family. This is an area for improvement for a number of reasons including that women with chronic viral hepatitis are often not referred for their own viral hepatitis care when identified during pregnancy and some women avoid starting treatment due to concerns about the cost of treatment and the impact on the family's budget.
Women leaders can be instrumental in supporting hepatitis efforts within their organizations and in their communities. This can include activities from promoting education and awareness about viral hepatitis to implementing specifically focused programs. For example, women in clinical settings can help to ensure that perinatal hepatitis B prevention measures are being implemented correctly, that women who are chronically infected are linked to care and treatment, and that women at risk are being tested for hepatitis C and linked to care and treatment. Women leaders are critical in our global response to viral hepatitis because they often have opportunities to put policies and practices into place that support the identification, care, and treatment viral hepatitis as well as highlight how hepatitis B and C affect women and their families.
Women in leadership positions can provide mentoring, educational, and professional opportunities for other women. By sharing their passion and inspiring the same in others, women leaders can help to expand the ranks of health workers dedicated to improving viral hepatitis and liver cancer prevention and care services. When a group of women leaders come together, there are unique dynamics and ideas may be shared from different perspectives. This meeting was one example of how women can come together and develop a shared vision and unique set of priorities to enrich and enhance our collective efforts by and for women in the field of viral hepatitis.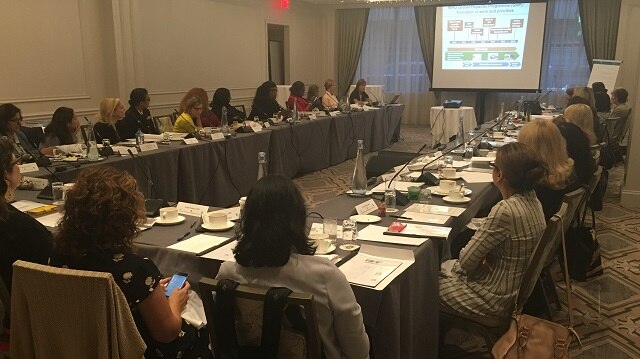 Posted In:
Prevention and Wellness
Public Health and Safety