Beyond Pregnancy Prevention: Preparing Youth for the Future
Summary:
A federally-funded program in Madison Heights, Michigan, provides employment and educational opportunities to youth who age out of foster care.
Sixth installment of the "Self-Sufficiency Series: Solutions from the Field"
Consistent with President Trump's Executive Order on Reducing Poverty in America by Promoting Opportunity and Economic Mobility, HHS's Strategic Plan sets goals for HHS to encourage self-sufficiency and personal responsibility, eliminate barriers to economic opportunity, and to prepare children and youth for healthy, productive lives. This blog is part of the Self-Sufficiency Series: Solutions from the Field, which profiles local programs from across the country finding solutions to accomplish these goals.
Every young person deserves a bright future with a healthy, productive life—including youth currently navigating the foster care system and those with troubled histories who have been displaced from their homes. Many of these youth have the good fortune of leaving the system to be reunited with their families or adopted.  But for the more than 18,000 foster care youth who age out of care at the age of 18 each year, homelessness and a lack of self-confidence, gainful employment, and education are too often an unfortunate reality.
One federally-funded youth life skills program in Grand Rapids, MI provides an example of agencies working to address these issues, providing entrepreneurship, employment and educational training opportunities to youth who are in foster care in or around their local community.
For these youth to become successful in the diverse communities where they live, we must provide them with the resources they need to guide them into becoming self-sufficient, productive citizens, a goal of the President's recent Executive Order on economic mobility and HHS' Strategic Plan. The Family and Youth Service Bureau's (FYSB) Adolescent Pregnancy Prevention (APP) Program is rising to that challenge by supporting organizations and communities across the nation with federal grant funding to help ensure our foster care youth have the knowledge, skills, and support they need to make healthy decisions and successfully transition to adulthood.
Funded through FYSB's Sexual Risk Avoidance Education (SRAE) Program, Bethany Christian Services (BCS) is one such organization. BCS implements approaches from the evidence-based Teen Outreach Program® curriculum to provide learning activities, workforce development, and stipend work experiences to foster care youth. The program teaches youth the basic life skills they need to achieve educational goals, employment training, and entrepreneurial skills through a variety of activities including career exploration, budgeting, resume building, pregnancy prevention education, and more.
Program participants are assigned case managers to assist them with taking the necessary steps to reach their greatest potential in life. Beyond pregnancy prevention education, BCS teaches youth invaluable lessons to foster self-sufficiency and build self-confidence.
BCS is just one of many examples of FYSB grantees who are on the ground preparing our youth for a future with healthy, productive lives. To learn more about the APP Program's state, tribal, and community efforts, please visit the FYSB website.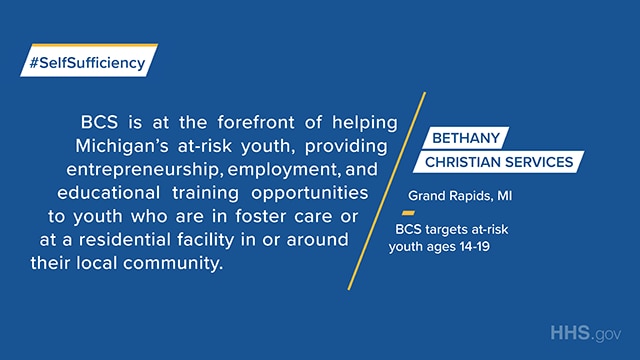 Content last reviewed on July 19, 2018