Our Olympians Can Inspire Young Americans Struggling with Obesity
Summary:
Secretary Price met with U.S. Olympic officials and athletes at the training center in Colorado Springs and praised the athletes for being good role models.
A couple weeks ago, President Trump celebrated American Heroes Week. He awarded our nation's top public safety award to the law enforcement officers who responded to the shooting at the congressional baseball practice, he honored a Navy veteran who manned the guns on the USS Tennessee at Pearl Harbor, and he awarded the Medal of Honor to an Army veteran who risked his life to save 10 fellow soldiers during a battle in Vietnam.
These are true heroes: They risked their lives to save others. America's Olympic and Paralympic athletes are heroes, too, for their passion and commitment to their sport and all they do to represent our country.
It was such an honor—and a lot of fun—to meet some of these athletes at the U.S. Olympic Training Center in Colorado Springs last week, and meet with U.S. Olympic leadership. Their facilities are state of the art and the trainers are top notch. Even the food at the cafeteria, where I joined several athletes for lunch, was gold-medal quality!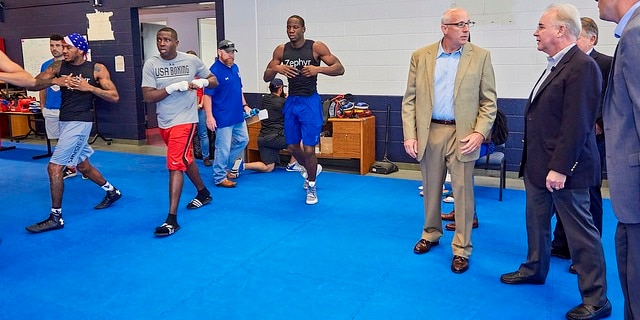 The athletes' commitment, their desire to do their best, and their enthusiasm and camaraderie were clearly evident. It's no wonder the U.S. has had such success at the Olympics.
We look forward to seeing some of the athletes we met compete in Pyeongchang, South Korea, next year, and in Tokyo in 2020. As a nation, we look forward to hosting the Olympic Games in 2028 in Los Angeles. Hosting the Centennial Games in 1996 was such an honor for my hometown of Atlanta.
The Department of Health and Human Services has a special link to the American Olympians.  Our Assistant Secretary for Administration John Bardis, who helped coordinate our visit to Colorado Springs, is a former team leader of the U.S. Olympic Wrestling Team. John is definitely the first former Olympic coach to be HHS's top administrative officer!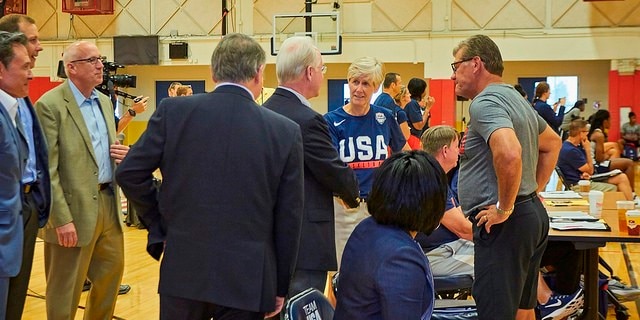 At HHS, we deeply appreciate the role that sports plays in America, and in fulfilling the Department's mission to improve the health and well-being of every American. By being prime role models for physical and mental fitness, our American athletes can play a vital role in supporting HHS's mission.
Our country faces a tremendous challenge when it comes to obesity and physical activity, especially for our children. That is why we have made childhood obesity one of our top three clinical priorities, alongside the opioid crisis and serious mental illness.
Currently, 17 percent of American kids are obese, and 36.5 percent of American adults are obese.
These kids are not just suffering now; they are going to be suffering from serious health problems at 35 or 40 years of age of the kind that we expect to see in people who are 65 or 70 years old. Obesity is a major cause of many of our most prevalent—and deadly—chronic health problems, including heart disease, stroke, diabetes, and some types of cancer.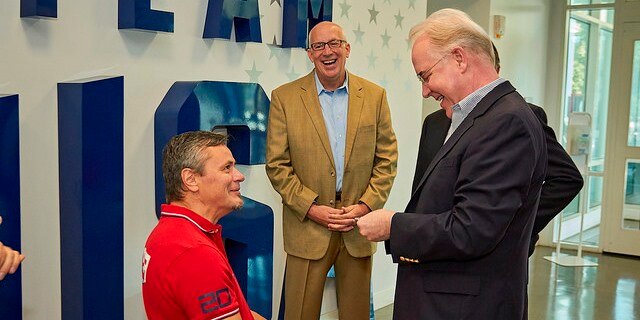 Childhood obesity in America is a national crisis with far-reaching implications. It can not only limit the kinds of fun young people can have during summer break or after school, but also jeopardize their ability to lead healthy and productive lives as adults.
Alongside eating right, more physical activity is a critical piece of facing and beating this challenge. Being active on a regular basis will help young folks feel better and do better in school, preparing them for a healthier and successful future.
So many proud American athletes already are wonderful ambassadors for American greatness and physical fitness. In May, HHS honored the awesome U.S. Olympic swimmers Michael Phelps and Allison Schmitt for the important work they have done raising awareness about mental illness in America.
We at HHS hope to do more such work, partnering with American athletes and other heroes to help make all of us as healthy as we can be. Our visit to Colorado Springs was a wonderful addition to that effort. Thanks to all involved.