Sickle Cell Disease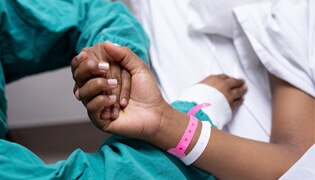 HHS Office of the CTO and the Office of the Assistant Secretary for Health are bringing leaders and people together to accelerate the identification and implementation of innovative solutions to increase the quality of life for patients living with SCD.
Table of Contents
About 100,000 Americans currently live with Sickle Cell Disease (SCD), the most common inherited blood disorder. This disease is costly; expenditures for patients with SCD are six times higher than non-SCD patients on Medicaid and 11 times higher than non-SCD patients with private insurance. African Americans are disproportionately affected by SCD, and all SCD patients experience challenges with access, quality, and affordability of care. At doctors' offices, patients may face accusations that they are "drug seeking," experience extended emergency department wait times, and have difficultly filling prescriptions. African American SCD patients may also encounter racial discrimination when seeking treatment for acute pain crises.
Our Engagement Plan
The U.S. Department of Health and Human Services Office of the CTO) and Office of the Assistant Secretary for Health (OASH) are addressing this issue head-on. By leveraging HHS institutional knowledge and expertise, we are bringing patients and key stakeholders together to accelerate the identification and implementation of innovative solutions to increase the quality of life for patients living with SCD. Once defined, these solutions will raise awareness to and better address the challenges of ER visits for SCD patients and help ease their transition of care from pediatric to adult.
This new SCD project is part of the Health+ initiative, which is an ongoing series of human-centered design, discovery, and prototyping cycles focused on specific, high-impact health needs. The goal of Health+ is to use design and technology to uncover many opportunities to explore new solutions around critical health and wellness issues affecting large segments of the population with SCD.
Customer Experience Focus
Applying human-centered design and the center of our work, we will be engaging with both patients and patient advocates across a variety of backgrounds and experiences in order to find common themes in supporting those with SCD.
Convening of stakeholders
Together, we will convene patients, patient advocates, physicians, providers, academia, payers, civil society, and state, local, and federal government for a roundtable event. Participants will hear keynotes and lightning talks that provide the context for action-oriented breakout sessions designed to gather input from participants. Facilitators will help attendees to validate the use of currently available data sets on SCD and to draw new and emerging themes from discussion topics. An output of the roundtable will be a whitepaper outlining recommendations and areas of focus for the next phase of rapid prototyping to drive health outcomes.
Data and Prototyping
Afterwards, we will gather subject matter experts, policy makers, patients, and technologists for a 'Code-a-Thon' that will use the currently available data with the goal of improving health outcomes. During this event, participants will receive the guidance and information to build their own prototypes that address the challenges identified from the roundtable. Product teams will be encouraged to create technology solutions that focus on improving the transition of care for patients with SCD and address the pain points of ER visits. These prototypes will help validate and de-risk future solution development. With a roadmap in hand, we will be able to fulfill the vision and improve the quality of life for people affected by SCD.
Together we will identify new solutions to address the daily challenges faced by patients living with SCD.
Blog Posts and Ways to Learn More
Advancing Health Equity through Data and IT: Sickle Cell Disease*
*This content is in the process of Section 508 review. If you need immediate assistance accessing this content, please submit a request to idealab@hhs.gov. Content will be updated pending the outcome of the Section 508 review.
Content created by Office of the Chief Technology Officer (CTO)