PALA+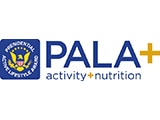 PALA+
, a program of the President's Council on Fitness, Sports & Nutrition, promotes physical activity and good nutrition, because it takes both to lead a healthy lifestyle. Start the eight-week program to help you maintain or improve your health. It's a great way to help manage and reach your health goals. Anyone age 6 and older can sign up for PALA+.
Participation in PALA+ is one way to move toward the recommendations in the latest
Physical Activity Guidelines for Americans
and
Dietary Guidelines for Americans.
PALA+ can help you:
Develop a commitment to regular physical activity
Move toward a healthier eating pattern
Set realistic goals to encourage good physical activity and healthy eating habits for a lifetime
Track your progress in a fun, interactive way using SuperTracker's Physical Activity Tracker and Food Tracker
The latest PALA+ update was released in March 2017. The PALA+ healthy eating goals have been refreshed to reflect new guidance from the 2015-2020 Dietary Guidelines for Americans. The program completion requirements have also been updated to allow users to make incremental progress at their own pace towards healthy eating goals that they select and the physical activity goals based on their age.
PALA+ is now an eight-week program:
In the first 5 weeks, log your food and physical activity to begin a routine and reach as many goals as you can
Beginning in week 6, you must reach your weekly physical activity goal and at least 6 of the 9 weekly healthy eating goals, including at least 1 of the dietary limit goals (added sugars, saturated fat, sodium), to complete the program and earn your award
If you need more time to reach your goals, you can try again in weeks seven or eight
PALA+ on SuperTracker
PALA+ is now on SuperTracker, the U.S. Department of Agriculture's free online food and activity tracking tool. For the first time, PALA+ participants will have the ability to log individual food items and physical activities on their SuperTracker profile to achieve the program's goals. Special features of PALA+ on SuperTracker include:
Customized dietary recommendations, like food group, calorie and nutrient intake goals to help you work towards a healthy eating pattern
An interactive SuperTracker dashboard to help you visualize and monitor your progress
Motivational pop-up messages
Use of SuperTracker's extensive food database
Easy access to nutrition and physical activity educational information
Earn the new PALA+ Premium Award by completing the physical activity and healthy eating goal requirements in weeks 6, 7, and 8 on SuperTracker. This new PALA+ award is for individuals who take an extra step towards establishing healthy habits for a lifetime, and is exclusive to completing PALA+ on SuperTracker
Watch a video tutorial on how to participate in PALA+ on SuperTracker.
Accessibility Notice
The PDF files referenced on this page may not be fully accessible to all users. A plan is in place to address these issues by 6/2/2017. Should you require any accessibility assistance with these controls, please contact Joey King at Russell.King@hhs.gov or 240-276-9849.
For more information about the PALA+ program on SuperTracker, download the PALA+ User Guide

Sign up for an eight-week PALA+ program on SuperTracker today: https://www.supertracker.usda.gov/PalaPlus.aspx
Program Goals
A healthy life is an active life. The physical activity goal for PALA+ has two components - active minutes and active days. Achieve the weekly physical activity goal by earning both. So take a walk or roll with friends, bike ride after dinner, garden, or play a game of basketball at the park. Get your heart pumping and your muscles moving!
Youth (6 to 17 years old) need to do at least 300 minutes of physical activity each week, and need to be active at least five days each week.
Adults (18 years and older) need to do at least 150 minutes of physical activity each week, and need to be active at least five days each week.
Note: The Physical Activity Guidelines for Americans suggest children and adolescents should do 60 minutes or more of physical activity daily. It is important to encourage youth to perform age-appropriate, variable, and enjoyable physical activity. Also, older adults, individuals with disabilities, and individuals with chronic medical conditions may choose to complete PALA+ using the official paper log if they are unable to reach the amounts of physical activity required through online participation on SuperTracker. For more information on guidelines for these and other populations, please consult the Guidelines.
Start eating healthy. It's easier than you think! With PALA+, participants get the freedom to choose what healthy eating goals they want to work on, which allows you to tailor the program for your specific needs. To achieve PALA+, you need to meet at least six (6) of the nine (9) weekly healthy eating goals, including at least one (1) of the dietary limit goals. Focus on your healthy eating goals every week. When you reach a goal – congratulations! You've started a routine for a healthier lifestyle. The healthy eating goals include:
Six (6) food or drink goals: Fruits, Vegetables, Grains, Protein Foods, Dairy, and Water
Three (3) dietary limit goals: Added Sugars, Saturated Fat, and Sodium
Learn more about the PALA+ Healthy Eating Goals

For more information on healthy eating patterns and how to ensure your diet is meeting your nutritional needs within an appropriate calorie level, please consult the Dietary Guidelines for Americans.
Paper Log & Award
The PALA+ program can also be completed anytime, anywhere by using our paper log! This version of PALA+ has also been updated and reaching your program goals will earn you the PALA+ award. Use this hard copy log to track your progress. Once completed, download your certificate below! Or, if part of a group, make sure to return it to your group administrator to get recognized.
Congratulations on earning your Presidential Active Lifestyle Award! Download your free certificate today!
Exclusively for users of SuperTracker, the PALA+ Premium Award recognizes individuals who have made an exceptional commitment to pursuing a healthier lifestyle. Download your free certificate today!
Content created by President's Council on Fitness, Sports & Nutrition