I Can Do It, You Can Do It!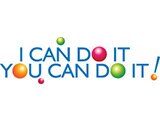 The President's Council on Fitness, Sports & Nutrition recently announced the next phase of
I Can Do It, You Can Do It!
(ICDI). ICDI facilitates and encourages opportunities for all Americans, regardless of ability, to lead a healthy lifestyle that includes regular physical activity and good nutrition. ICDI previously focused on youth participation and was implemented nine sites across the U.S. Today, the program includes children AND adults with disabilities. The Council's goal is to expand and implement the program in at least 100 sites nationwide over the next five years.
Key Facts
Approximately 56 million Americans today have a disability.
The obesity rate for children with disabilities in the U.S. is 38 percent higher than for children without disabilities. The adult obesity rate is 57 percent higher than for adults without disabilities.
Adults with disabilities are physically active on a regular basis about half as often as adults without disabilities (12 percent vs. 22 percent). 
Significant disparities (barriers) exist in access to health care, with 29 percent of people with disabilities showing unmet need compared to 12 percent for people without disabilities.
Sign up to become an ICDI advocate!
ICDI offers recognition through the Presidential Active Lifestyle Award (PALA+). The program includes resources to keep participants engaged in leading a healthy lifestyle. The President's Council encourages organizations to join the I Can Do It, You Can Do It! team to help improve the health and fitness of people with disabilities.  You can do this by signing up to become an ICDI Advocate.
Becoming an ICDI Advocate gives you the following benefits:
Access to the comprehensive toolkit that enables site directors and mentors to be successful in implementing the ICDI program
National recognition on our website
Easy-to-use online materials to encourage your target audience to increase their physical activity and earn awards
Access to awards featuring the signature of the President of the United States
Use of the ICDI logo and materials
Technical assistance and support
It's easy to become an ICDI Advocate!  To get started, send an e-mail to ICDI@hhs.gov for more information on how to sign up.
Background
The ICDI national model was initiated by the U.S. Department of Health and Human Services' Office on Disability in 2004 and supported by the National Institutes of Health-Division of Nutrition Research Coordination (DNRC).
In 2011, when the program was slated to be discontinued, PCFSN formed a subcommittee of experts to assess the impact and viability of the program, and provide recommendations regarding its future. The subcommittee determined that the program is valuable and effective, and should be expanded and revitalized to include adults and additional sites across the U.S.
Resources
Content created by President's Council on Fitness, Sports & Nutrition