HHS Live Streaming
Upcoming Events
Upcoming Broadcast Events on HHS Live Streaming
U.S. Department of Health and Human Services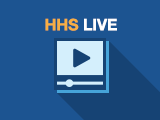 October 27, 2016 |

2:00 pm

to

3:00 pm

EDT
Secretary Burwell and the American Hospital Association will discuss 2017 open enrollment and the key role hospitals play in getting their communities covered.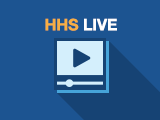 October 31, 2016 |

9:00 am

to

5:00 pm

EDT
This is the quarterly meeting of the Advisory Council on Alzheimer's Research, Care, and Services.
Stream Your Event
HHS Broadcast Communications supports video production and live streaming for HHS StaffDivs and OpDivs.
To learn more about streaming live events from HHS, contact Michael Wilker at Michael.Wilker@hhs.gov