HHS Secretary Sylvia Mathews Burwell

"Healthy Self"
The "Healthy Self" campaign is about connecting people to the care they need and empowering them to take a more active role in their health​.
Learn more about "Healthy Self" and show us how you're living healthy by sharing a #HealthySelfie!  ​
---
Latest Blog Posts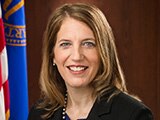 Across the administration, we're taking steps to make sure we're passing on clean air, clean water and a safe climate to future generations.
For 50 years, Medicare and Medicaid have shown how effective policy can dramatically improve the lives of millions of Americans.
Latest Speeches
By:
Sylvia Mathews Burwell
Secretary Burwell's keynote address at the 50th Anniversary of Medicare and Medicaid event.
By:
Sylvia Mathews Burwell
Secretary Burwell gives remarks on health care, Medicaid, precision medicine, and other topics at the National Governors Association Summer Meeting.
Videos
Watch videos of Secretary Burwell.
---