HHS Secretary Sylvia Mathews Burwell

"Healthy Self"
The "Healthy Self" campaign is about connecting people to the care they need and empowering them to take a more active role in their health​.
Learn more about "Healthy Self" and show us how you're living healthy by sharing a #HealthySelfie!  ​
---
Latest Blog Posts
Together at HHS and Lyft, we want the millions of Americans working as freelance professionals to know three things about coverage on the Marketplace.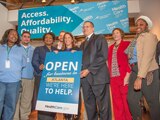 As we embark on 2016, here is a glimpse back at some of our incredible work from this year.
Latest Speeches
By:
Sylvia Mathews Burwell
Secretary Burwell provides remarks on the success of 2016 Open Enrollment.
By:
Sylvia Mathews Burwell
Secretary Sylvia Mathews Burwell spoke January 10th at New Mt. Zion Church of Tampa about the need to reach out to uninsured people to help them enroll in health insurance through the Health Insurance Marketplace and to reduce health disparities in communities of color.
Videos
Watch videos of Secretary Burwell.
---