FOR IMMEDIATE RELEASE
May 19, 2014
Honoring Emergency Medical Services during EMS Week
A statement from Dr. Nicole Lurie, Assistant Secretary for Preparedness and Response
This week, our nation honors emergency medical service (EMS) professionals for their dedication to public service.
Over the past century, the field of emergency medical services has grown from hospital interns who rode in horse-drawn carriages transporting the sick and injured in a few cities during the 1800s. Today our nation draws on diverse network of nearly a million EMS physicians, nurses, paramedics, emergency medical technicians, dispatchers, and support staff in every community. With each passing year, EMS has demonstrated increasing importance in our nation's health care system.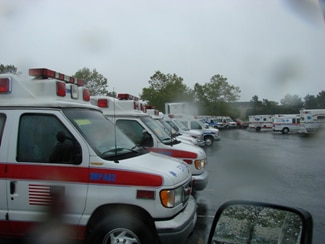 EMS practitioners serve our nation in its darkest hours and at a moment's notice. In recent months, they provided care after a deadly mudslide in Washington state, in the aftermath of a tornado in Arkansas, and when a gunman opened fire in a Navy facility in Washington, D.C. EMS practitioners work just as diligently to protect health and save lives in every American town and city every day in emergencies large or small.  
At HHS, we recognize the connection between the care patients receive through the primary care providers, the acute care provided by emergency medical services practitioners and the care provided in emergency departments. We know that a seamless health care system is required, day in and day out, for our nation's health security.
To that end, we are working on a wide variety of projects. Among them: We are partnering with EMS practitioners to link EMS records with other electronic health record systems and health information exchanges.
We also are working through the Federal Interagency Committee on EMS to improve coordination among federal agencies that affect emergency medicine. We're exploring ways to improve the effectiveness and reliability of Enhanced 911 services, and working with EMS practitioners to implement a strategy that ensures a culture of safety within the EMS community.
We also are providing guidance, training, and materials to assist EMS providers who face active shooter situations.
Please join me in taking a few moments during EMS week to thank an emergency medical services practitioner. EMS: Dedicated. For life.
Photo caption: Emergency medical services ambulances lined up help New York City hospitals with evacuation in preparation for Hurricane Irene. HHS/ASPR photo
NOTE TO EDITORS: The HHS photo can be downloaded from https://www.flickr.com/photos/phegov/6093372760/
###
Note: All HHS press releases, fact sheets and other news materials are available at
https://www.hhs.gov/news
.
Like
HHS on Facebook

, follow HHS on Twitter
@HHSgov

, and sign up for
HHS Email Updates
.
Last revised: May 19, 2014