Layouts
HHS.gov uses Bootstrap's responsive, mobile-first fluid grid system that scales up to 12 columns as the device or viewport size increases.
---
Enterprise Templates
The templates used include the four responsive layouts shown below in figures 17 through 21.
Benefits of using the Enterprise templates include the following:
Sub-site of HHS Enterprise - utilizes HHS.gov primary navigation
Customizable local navigation
Customizable to include a Top Task tile and/or a slimboard
Customizable to include related links, dynamic content such as Tweets, static content such as a badge, or other elements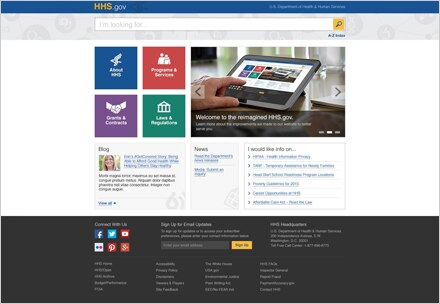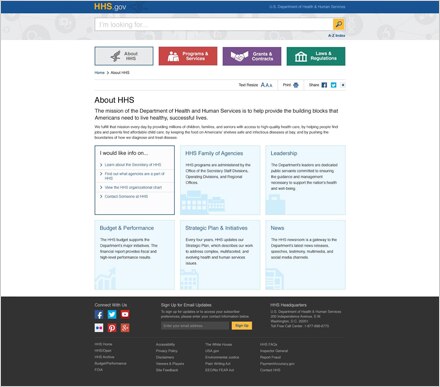 ---
Independent Template
The Independent templates used include the responsive layouts shown below in figures 20 and 21, as well as many of the templates shown from the Enterprise site. This ensures that content is consistently displayed throughout all of HHS.gov.
Benefits of using the Independent templates include the following:
Independent primary navigation - up to 8 tiles/primary sections
Customizable icons for navigation and primary tiles
Customizable colors for primary navigation tiles
Customizable local navigation
Customizable to include Top Task tiles and/or sub-site billboard(s)
Customizable to include related links, dynamic content such as Tweets, static content such as a badge, or other elements
Customizable footer to include social media channels, Email Update Sign Up, and office location information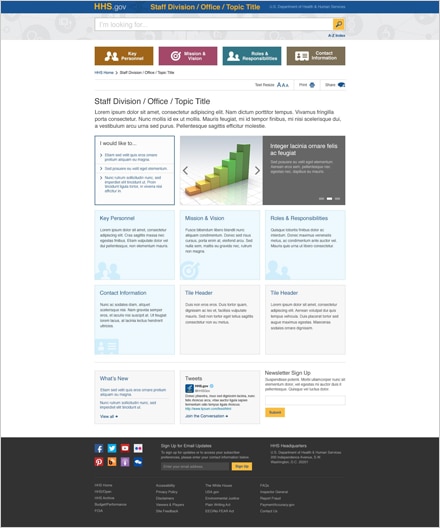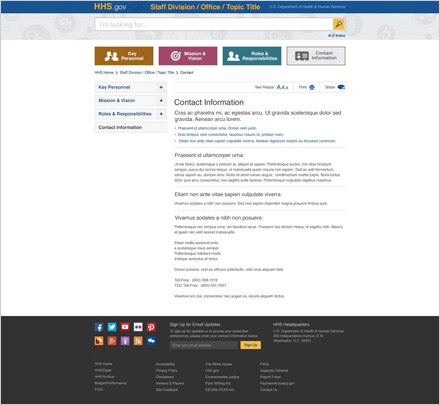 Content created by Digital Communications Division (DCD)